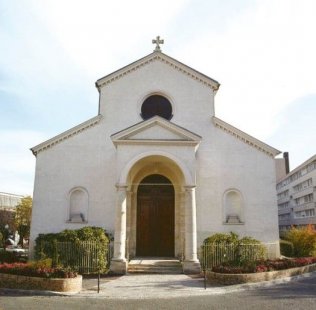 A traditional railway workers' town (1/5 of its territory is situated on the site of the French Railway Company-SNCF), Noisy-le-Sec is a harmonious town and an integral part of the history of the department. It has strongly projected into the challenges of the 21st century.
The origin of the name Noisy is related to a walnut plantation. The dryness of the soil refers back to the name.  Even though the first written records of the town go back to the ninth century, prehistoric remains are proof of a much earlier occupation. Rue Jean Jaures which was fully renovated in 1997, connects the RN3 to Paris. It is the main axe of the town on which can be found shops, new residential buildings " Les Decouvertes residence" and "Carnot", the City hall, the administrative center and the Roger-Gouhier multimedia library. This multimedia library, in the center of the town, is an invitation to read, to listen to music and to learn more about other new multimedia. Wooden arches, bricks, large windows, the work of Yann Brunel, blend beautifully with one of the rare remains saved from the 1944 bombings. A magnificent 19th century stately home where the old library used to be.
The atmosphere around Cité de Merlan
"Allée des cottages" or "Allée de la Libération", the Experimental City, has preserved  an English country-side atmosphere.  The detached houses, all different from each other with their individual gardens, is the result of a relocation project after the1944 bombings. Overseen by the architect Grevel, this urban experiment was inspired by certain towns in North America.
Admire the four bells saved from the bombings. Set up on a grassy mound  in front of the Saint-Etienne church located at Allée des Peupliers, they are, in a somewhat unusual way, part of the landscape. One them is called Eléonore - Valentine - Eulalie - Marie-Antoinette. The other one : Etiennette - Robertine - Emilie. The third Marie - Annonciade - Françoise - Adrienne and the forth Antonine-Angélina of the Saint Sacrement. The company Oposito resides at Noisy Le Sec.  In spring and for the last seven years, these modern-Day troubadours take to the streets, along with other companies. Noisy has thus become the meeting place for street artists. Do not miss these lively vibrant parades! You can also visit La Galerie, an art center located and the Bergeries theatre.
In and around Noisy-le-Sec
To discover the wealth and treasures of the territory, browse through the list devoted to "company visits" of laboratories, factories, workshops and much more... that open their doors and share their savoir-faire for guided visits or opt for a guided tour of the different areas and towns in the region Ile de France.
Noisy-le-Sec : practical information