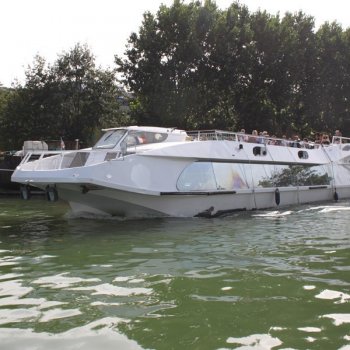 Discover the canal de l'Ourcq on this beautiful boat looking like a yacht. With a capacity of 150 passengers, this nice boat, part of the Canauxrama fleet, has a spacious and luminous interior area and a 480 sq ft outdoor patio on the upper deck.
The Henri IV boat offers you to discover Paris, the Seine and its canals thanks to Canauxrama.
During the Eté du Canal, get on board for party cruises or brunch, diner, "apéritif" cruises…
New this year : tasting and movie cruises offer a culinary journey and will drop you off at the Parc de la Villette for an open air film screening.
Discover other boats riding on the Parisian canals: the Sisley and Alliance boats.