Livry-Gargan has naturally preserved its spacious and airy pavilions. A simple stroll is made almost bucolic.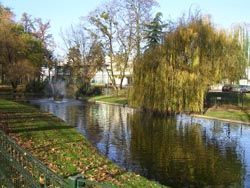 Twelve kilometers to the north-east of Paris lies Livry Gargan (750 ha), a city which has managed to maintain, over the years, a certain quality of life while preserving its residential aspect. Today, the town strives to remain attractive while keeping up with the times in particular by promoting initiatives for the young.  The town has also understood the importance of proximity, essential to stimulating interaction and conviviality. The population has nearly doubled since 1945 but has been able to preserve its urban and suburban charm and authenticity as well as its pavilions. Many private gardens give it a Virgilian atmosphere.
The heritage of Livry Gargan
At the heart of the city lies the "chateau de la fôret", a Louis XIII style edifice, built in 1864 in Parc Lefevre, a particularly pleasant place to stroll. The castle sometimes exhibits contemporary art and recounts the history of the town once much appreciated by Madame de Sevigne. "Livry is my favorite place to write" noted the famous letter writer and columnist, Marquise of the "Great century" - 17th century. She lived in the abbey of Livry from1637 to 1688, where her uncle, the abbey Christophe de Coulanges was canon. Among the celebrities of the town figured the Admiral Jacob, Minister of Maritime affairs under Louis Philippe, Louis-Xavier Gargan, and the champion cyclist Anthonin Magne…
Planted over 200 years ago (1758) and situated along the national 3, the Lebanese cedar tree rises up and spreads its vigorous branches. You can also see the church Notre-Dame de Livry which is also known as the white church and the Livry Synagogue.
Throughout the year, you can also sign up for urban walks in the Paris area and guided industrial visits for subscribers through Livry and other northern cities in Paris.
See our selection where to eat, where to sleep to find a hotel or a restaurant close to livry. See also : Cinema Yves Montand in Livry Gargan.