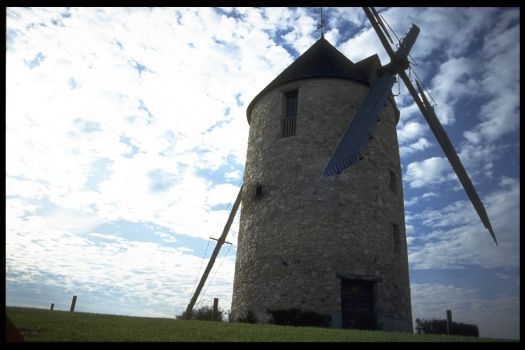 This old mill from 1740 located at Montfermeil was built up again with its original stones in 1986-88. It is the last of the windmills in Seine-Saint-Denis. It had been successively damaged, abandoned and restored many times.
Moulin de la Galette - Moulin de Sempin
In 1896 during another new restoration, it was then renamed and is known since as "Moulin de la Galette". Built from the beginning on a gypsum plot of land in the area of "Sempin" it was then decided to save this heritage monument and to rebuild it with its own original stones 140 meters from where it was originally located.... It was inaugurated in 1988 under the name of Moulin de Sempin !
The Moulin and the park Josseaume: 2 "re-creations"
Moulin de Sempin is open to the public in the afternoon on the first week-end from April to the beginning of November. It is now located at the border line of a park of 6 hectares (Jean Pierre Jousseaume park) which was created in 2002. It is an ideal area for picnics, where fauna and flora are naturally in their right place!
What to see there: The miller's house and its temporary exhibitions, the viewpoint indicator, the pond, the donkey in the meadow , not forgetting the play area for children.
The millers' house hosts permanent exhibitions on bread, bakery, and pastry and exhibits the various mainstream mills.
More information about places to see in Montfermeil.