Zooproject is no more, Street art has lost a committed artist
Street-artist Zoo Project who worked a lot in the 20th†district of Paris and in Seine-Saint-Denis has died in tragic circumstances in the United States.
Departure of an artist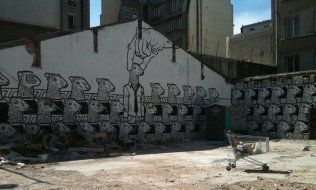 Sometimes people we do not know, or know very little, leave us, and, without our knowing why, leave us with a strange feeling of emptiness†; as if they had already taken up place in our lives, soundlessly, had just blown a breath of fresh air into our existence. Zooproject has passed away. Beyond the particularly hard circumstances of his death, his body was found after having spent eight months in a Detroit morgue, murdered with a bullet in the head, beyond the disgust that the death of a man of twenty three years old instills, almost a child, it is the essence of his short existence that plunges us into an abyss of perplexity. Zooproject sparkled, his art almost burning out to us, with his commitments.
From Paris to Tunisia
He was one of the daily hangers in the 20th district of Paris, those that scrutinize interstices between shabby buildings, those who jump across construction site fences just through curiosity, those who roam around neglected residential areas where only the locals live. †From his half-human-half beast chimeras, his poetic messages which make us pause for thought, he reinvented the dilapidated housing projects, communicated with these spaces that urbanism hunts down, building on each piece of land a clean and often insipid building, breaking the poetic marginal outburst of the city. This playground was not a game for him. Forsaking his friends to be able to express himself night and day, this insatiable artist designed a world that required him to react. But soon all these spaces became too small for him; he left for Tunisia to understand the revolution. †He gave the power of his black and white drawings to the insurgents, painting the martyrs of this revolution requested by the families and friends of the victims. After that he went to a refugee camp on the Libyan border to give some dignity back to injured men, drawing their bodies on white canvas floating in the wind, attached to stakes in the desert.
Ephemeral testimonial Artworks
Quite quickly the huge paintings done by Bilal (his real name) began to disappear, erased by the housing program. They were not meant to remain, but just to testify to the moments of violence in this world and to offer an escape mechanism from reality. Bilal has left a gaping hole, that of an atypical artist fighting injustice through his paintings with an energy as powerful as his dazzling way of life.
"While solidarity and hospitality are becoming pejorative notions, reprehensible, punishable in France by Law, it seems fundamental to me to put a stop to this regression.† In any way I can." Bilal Berreni