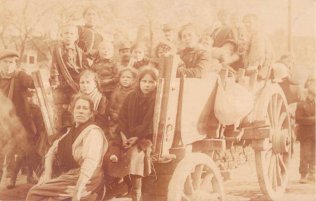 The 1850 economic crisis in France pushes the country dwellers, such as the Auvergnats, to leave their villages and precarious situation for Paris.
In the 19th century, Bretons who have a comfortable way of life thanks to technology progress and the improvement of their life conditions are forced to emigrate to Paris because of the fall of the textile industry, employing a major part of the population.
Paris, the first destination for Breton migrants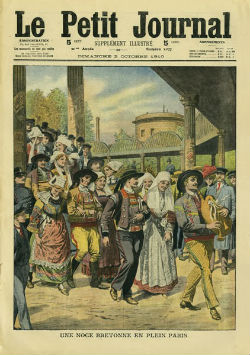 Most of the Bretons emigrate to Paris, but also to Lille, Tours, Orléans, Lyon, Dunkirk, Le Havre, Bordeaux, Marseille… Bretons are one of the first people to emigrate to Paris, dating from the Middle-Ages.
Thanks to the opening of the Paris – Brest railway line in 1865, a lot of Bretons come to Paris to take a chance. In the 14th arrondissement, they recreate Brittany and mainly speak Breton. New comers participate to the construction of the subway thanks to the creator, Fulgence Bienvenüe, a Breton man.
Because a vast majority of Bretons does not speak French or just a little, they principally work in factories, are not well paid and live in hovels.
This also applies to women who often hold a position of janitor, nanny or domestic. Their lives will inspire the character of Bécassine, a comics heroine, created in 1905 by Jacqueline Rivière. Yet, some other female migrants are less fortunate and do not have any other choice than prostitution. Pimp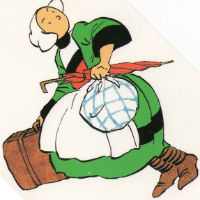 s recruit them as soon as they get off the train. Geneviève de Blignières, a Breton woman who arrived in Paris in 1926, created a shelter in 1933 to help these young girls to find a true job. This establishment still exists today and is now called Centre Social Breton. It welcomes young workers, especially girls from Brittany.
From Paris to the Plaine-Saint-Denis: Bretons are coming to Saint-Denis
In 1833, 12,000 Bretons live in the capital and they start to expatriate extra-muros (outside the city of Paris) in Saint-Denis, in the Plaine and Pleyel neighborhoods, becoming industrialized. In 1891, 2,217 Bretons live in Saint-Denis. They will be followed by Spanish, Italian, Belgian, Polish, Algerian, African and Asian people.
Today, Bretons social status has evolved. Many of them now work for the SNCF, RATP, customs, police… They are principaly located in two departments: the Yvelines and Hauts-de-Seine whereas the Breton people of the Seine-Saint-Denis gathers in the city of Saint-Denis.
A complicated integration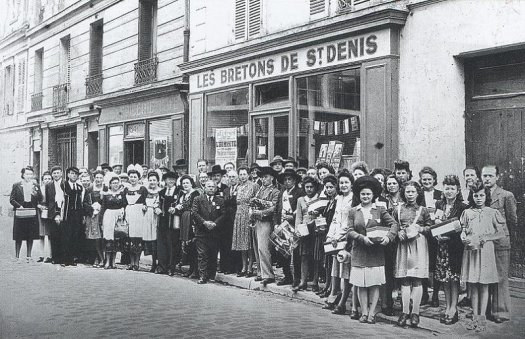 Upon their arrival, Bretons had to face an "antiprovincial" racism. Parisians are not favorable towards their move. It is the same thing in the suburbs. The locals accuse them of "stealing their jobs and not to fit in".
As everywhere in the department, Bretons have some trouble to fit in because of the language. They always speak Breton and most of them would like to go back to Brittany. But only a few will…
The ones who decided to stay start to integrate the community. Some of them became deputy mayor and associations like the Mission Bretonne and L'Amical des Bretons of Saint-Denis helped Bretons to settle. Today, they promote Breton culture in Ile-de-France.
Restaurants such as O Grand Breton and La Bigoudène Café, both located in Saint-Denis, offer typical and delicous Breton food (salted and sweet crêpes, cider, chouchen...).