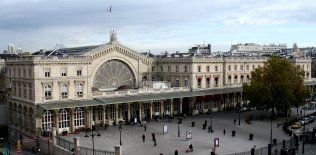 Want or need to rent a vehicle ? Whether it be a city car, station wagon, convertible,  four-wheel drive or utility vehicle, car hire agencies have different pick-up points in Paris and near major sites. You can pick up your rent-a-car at gare de l'est train station. At the station you have access to the Paris underground lines  and RATP buses. Easily accessible, gare de l'Est is close to a large choice of hotels in the heart of Paris. It is also possible de rent a car at Paris Nord Station, a few minutes away from Gare de l'Est.
Note that at Paris Gare de l'Est you can rent an electric vehicle and charge up your phone while you pedal at a strange phone charging bike station…
You can rent a car or a utility vehicle for one day, a week-end or more  and return it to the pick-up point or elsewhere on demand. You just need to ask about the conditions and decide from there whether to leave the car at another agency in another town.
For work reasons you need to rent  a car and leave it at an agency at Roissy CDG airport or at Orly airport before you take your flight : no problem, just let the agency know and, depending on the site concerned, you might or might not have to pay a fee.
Where are the car hire agencies at the gare de Paris Est ?

In order to find the main agencies in the station it is necessary to go in to the station and go down to level -1 -> the parvis near Hall St Martin. On this level – you have access to the different car hire agencies and car parking places under this Parisian train station. The postal address of these agencies is at  "rue du 8 mai 1945" - Paris 10. Outside of office hours you can leave the keys in the secure drop boxes in reception.
Rental AVIS at Gare de l'Est
The Avis Paris Est agency is open from Monday to Friday from 7am to 8pm. Open Saturdays from 7am to 3pm and Sundays  from 3pm to 10pm. Tel : 08 20 61 16 26
Car rental Europcar at Paris gare de l'Est
Europcar can be reached at Paris Est at 01 40 36 13 90. The offices are open from Monday to Thursday  from 8am to 6.30pm / Friday from 8am to 9pm. Open Saturday and Sunday from 8am to 2pm. Europcar opening hours on public holidays from 8am to 2pm.
Rent a City car and utility vehicle  with HERTZ Paris
Hertz Paris gare de l'Est can be reached at 01 55 31 93 21. Open from Monday to Thursday from 7am to 7pm / Friday from 7am to 8pm. Open Saturdays from 8am to 1pm. Open on public holidays from 8am to 7pm. The Hertz Paris Est agency is closed on Sundays.
Electric car rental, scooter with WATTMOBILE
The electric car rental agency WattMobile is open from Monday to Sunday from 9am to 00.45 (open on public holidays – same times). You can call Wattmobile at 08 11 14 13 13. Wattmobile station is located on level 0 at Parking P1 – Alsace. Electric car rental service for car type Renault Twizy and scooter Peugeot E-Vivacity is self-service.
Some rental agencies outside of the station
Sixt - 127 rue du Faubourg Saint Martin - 75010 Paris
Tél: 01 58 20 13 24
Open from Monday to Friday from 9.30am to 1.30pm – 2.30pm to 9pm
Open week-ends from 8am to 1pm and from 3pm to 6pm.
Open on public holidays from 8am to 1pm
Avis - 184 rue du Faubourg St Martin - 75010 Paris
Tél: 01 46 07 82 45
Car Go - 5 rue Abbeville - 75010 Paris
Tél: 01 48 78 98 37