Many agencies offer car rental options in Paris and in Ile-de-France (including towns around Paris). The main agencies are located at Roissy and Orly airports and in the different railway stations in Paris. It is possible to pick up a car in agencies, car parks, garages or service stations in the centre of Paris or in certain towns in the suburbs. Several types of cars and options are proposed : unlimited kilometres, rental with drop-off location at another agency in France or elsewhere in Europe, electric or hybrid cars, automatics, momospace, family car.
Car rental conditions vary according to the car rental agencies, including insurance conditions. The minimun age to rent a car varies from one company to another depending on the size of the vehicle. In major sites such as airports, railway stations, agencies are open every day except in the city - some agencies close Sundays and / or close earlier.
Rent a car at the international airports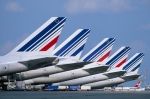 Several agencies offer vehicles to rent at the three airports in the capital. Consult our page dedicated to renting a car in Paris CDG to know which terminal you can pick up or drop off your car. Take a look at our page renting a car at Paris Orly if you are flying from or landing at Orly Sud or Orly Ouest. It is also possible to reserve a car near the business airport le Bourget.
Rent inside the Paris railway stations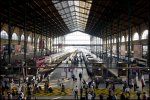 It is possible to reserve a vehicle close to all railway stations in Paris. If you want to rent a car from Paris-Nord or Gare de l'Est, you must go downstairs to ground level to get to the different French and foreign agency counters, easily accessible from your TGV exit. You can be in your car or on your scooter in just a few minutes if you have booked in advance ; in any case, the vehicle fleet is sufficient to find a vehicle parked in the station carparks.
Car rental in the Paris districts
Besides the airports and Paris railway stations, it is possible to rent a city car or a saloon, a luxury car, utility vehicle or van, convertible at different prices. Check out the main agency car rental sites to see the type of vehicle that would best suit you.
Don't omit Autolib, a service run by the Paris town authorities that allows you to rent small electric cars at different points in the Paris region (subscription accessible for 18 years and over – cf conditions of subscription and use).
Parisian, tourist or business  people : rent a car for the weekend or a week
Renting a car to get you around Ile de France is practical but it is good to know that driving in Paris and finding a place to park is not easy and can be costly. It is easier when visiting Paris to take the public transport but if a car is essential contact the different rental agencies.
You live in Paris and do not own a car : rent a car for one of your weekends away or during  your week's holiday. It is also a good idea to rent a van close to your home when moving, a one-off-need to transport heavy or awkward loads.