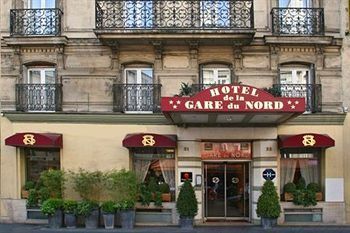 Location: One of the best reasons to choose Hotel de la Gare Du Nord is its convenient location in the heart of the city centre. A very charming structure in front of the station of the same name from which you may take the Eurostar to London or Thalys to other European towns.
Hotel Features: The establishment boasts about forty-seven air conditioned soundproof rooms with double-glazed windows. All of them have been fully furnished in a classic yet modern style, and equipped with the latest modern tourist amenities.
Hotel Amenities: Complimentary wireless Internet Wi-Fi access and newspapers are available in the lobby. Buffet breakfasts are optional. A bar/lounge is open for drinks and the restaurant serves lunch and dinner at scheduled times. Room service is also available during limited hours. Additional property amenities include multilingual staff, express check-in and check-out.
Transport Facilities: The hotel is ideally situated near the bustling Gare du Nord train station. It is very convenient for early morning or late night travelers. Gare du Nord is a hub for easy access to the airports or to some of the main French cities. The RER – the French Réseau express regional – the high speed train service between Paris and the suburbs allows a direct connection to the Bourget Exhibition centre or the Villepinte Exhibition centre.
Hotel location and tourist attractions: All Parisian modes of public transport will take you throughout the cultural centre of Paris – Ile de France through some of the world-renowned attractions such as the Stade de France, the Basilica of St Denis, Avenue des Champs-Elysees, the Place de la Concorde, the Opera Garnier, the Eiffel Tower, the Sacre Coeur Basilica and the Galeries Lafayette, only minutes from this charming hotel.