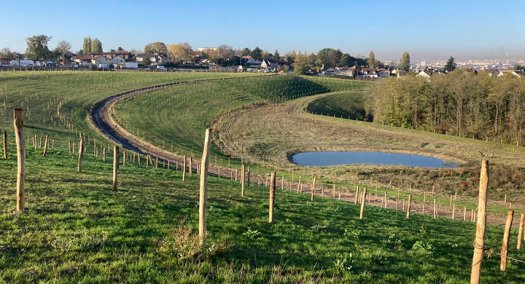 Where to go for a picnic or a ramble in the North of Paris?
The Fosse Maussoin Departmental Park, located in Clichy-sous-Bois near Paris, is a wooded area that now covers 14 hectares and is ideal for walks. In January 2021 the park was officially enlarged after 10 years of work. It will be further enlarged in a few months time to accommodate the public on 22 hectares.
For this first 7-hectare expansion, nearly 9,000 trees were planted, a new playground was created, a Belvedere was installed and two entrances were opened. The last hectares of greenery and planted trees, scheduled to be completed by the end of 2021 in 2022, will make the Maussoin Park a much appreciated "green lung".
You will discover a pleasant wood for walking, a vast meadow ideal for relaxation and picnicking and a fitness trail for sportsmen, hiking trails, path for jogging.
Discover the fauna and flora
This forest park is a remnant of the former forest of Bondy with its century old oaks, and a man-made pond - to bring a flora and a fauna of a varied aquatic nature (triton, frog...). The space called La Prairie in the lower part of the park is highly appreciated. Grasslands, herbaceous plants as primroses, buttercups are plentiful and offer a nice picture to visitors. This park is a popular habitat for bats – unloved but actually necessary.
Sports and leisure equipment
The park features a fitness trail and a bodybuilding area. You will also find games for children, picnic tables. You can come by car and leave it at the carpark.