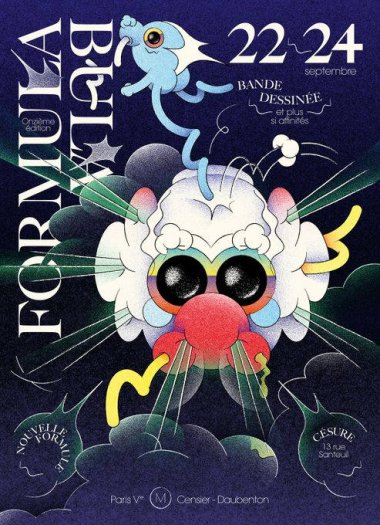 Formula Bula - BD and more, is a comic book and independent associated arts festival. Workshops, exhibitions, conferences, projections, and cruises will be scheduled at the venue Point Éphémère Paris, Pantin and on Canal de l'Ourcq over 3 days.
Change of venue in 2023:
Meet in the Latin Quarter (5th arrondissement of Paris) at Césure at 13 rue Santeuil - 75005 Paris (tiers lieux).
access: metro 7: Censier-Dauberton or metro 5: Campo-Formio
Formula Bula 2023 guests: pending
10th edition of the festival
2022 - In recent years, BD has travelled at the speed of light. Authors experiment, rack their brains and transport the 9th art towards other territories. It is this permanent Big Bang that we invite you to discover, via a program with an international flavour that will set up base at the Point Éphémère Paris, canal de l'Ourcq and in the city of Pantin.
2022 - Do not miss Dédicroisières on Canal de l'Ourcq in the company of comic book authors!
Registration for Dédicroisières
2022 - Book your tickets now for dedicated cruises via the link below. Free cruises, limited number of tickets available. This activity is no longer available but you can still check all the other cruises.
If you're into video games do not hesitate in attending or participating in the Ultimate Fighting Arena and try to win the big prize.