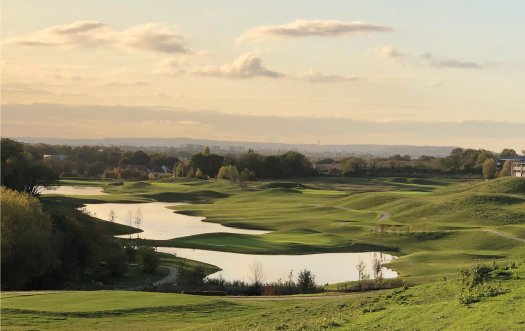 International Roissy Golf is located near CDG airport, only 20 minutes away from Paris. The Roissy Golf opened in september 2020 offering a new place to golf in Paris region.
Roissy Golf Course
Roissy Golf course is nestled in the Green Valley on a 90 ha field. It was designed by Michel Niedbala.
International Roissy Golf offers a beautiful course with 18 holes (wings) and 6.499 meters long. The course is suitable for golfers of every age and level. Pitch and putt (arrows) : 6 holes.
Practice areas count for one practice area 12 of which are covered, 2 putting greens one of which is synthetic, an approach zone with bunker and a Virtual Golf practice area inside.
Golf classes
Free golf initiations are available. You can also take part in classes to perfect your game. The golf school teaches young golfers how to play.
Practical information and services
The golf has a restaurant, a shop and 4 meeting rooms for professional events.
You can buy or rent golf equipment. Buggies are available.
The Roissy Golf opens everyday from 8am to 8pm during the high season and from 8am to 7pm during the low season. Consult prices on the official website.
The Golf de Roissy restaurant is situated in the clubhouse in a nice 2700m² surface area. It offers a great view over the Green Valley. In summer it is open from 8am to 7pm from Monday to Friday and from 8am to 8pm during the week-end. In winter it opens from 8am to 6pm during the week and from 8am to 7pm on Saturday and Sunday.
You can easily access the golf course thanks to the proximity of A1 motorway.
Find a hotel near Roissy Golf.