Organize a bachelor party for brides-to-be or grooms-to-be near Paris. Organizing a bachelor party  for a young man or woman can be a real headache for the best man or bridesmaid. Here are some daytime activities and evening entertainment ideas to help in the preparation of an original bachelor party in the North East of Paris.
Organizing a stag party for Gourmet and foodies in Seine-Saint-Denis
To share a convivial moment, cooking activities are ideal! Cooking classes, cooking workshops and visits are available: learn how to make your own macaroons, pastries and chocolates, gastronomy will have no more secrets for you! African cuisine classes are also proposed. Or else opt for a visit of a brewery and discover the secrets of beer, how it is made, the making fabrication and the different tastes. Feeling hungry after the drinks? Here is a list of ideal restaurants for stag and hen parties in Seine-Saint-Denis and find a place for late night drinks to keep the party going!
Do-it-yourself hen-night
We propose creative workshops with designers and craftsmen and women. They will show you how to customize and recycle your own accessories and clothes. And why not enjoy together a flower workshop to learn how to make a bridal bouquet?
Sport and fun activities in North-East Paris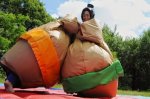 For a stag or hen night around sports, halls and climbing places, tree-top and adventure parks are proposed around Île-de-France. Plaine Forme Park in Coubron, features many fun sports activities such as tree-top activities, wall climbing, Sumo wrestling, etc … Bachelor parties here can be tailor-made.
The bride and groom are football fans? Why not opt for a visit to the legendary Stade de France and go behind the scenes or enjoy a match or concert…
Tours and cruises for an original stag or hen night party

North-East Paris, with its canals and parks has many water activities, zodiac rides, etc. To prepare an unusual pre-wedding-bachelor party enjoy a cruise on the canals in the North East of Paris. Some cruises are available for groups around various themes  such as fashion, film, art etc…
A list of tailor-made visits for small groups  proposes many activities around various themes: urban art, cooking classes, crafts, visits of famous sites as well as activities such as helicopter flight tours over Paris or treasure hunting… Or why not try a mystery visit?