The planetarium at the Air and Space Museum Paris Bourget is located on the tarmac between World War II Halland the hall Espace Normandie-Niemen.
La tête dans les étoiles at the planetarium of Le Bourget
Enjoy a 30-minute movie with your head in the stars. Comfortably settled in your sofa, follow a perfectly illustrated documentary inside the dome.
You will hear all about the circumferences of the Sun, you will be given some clues to read the tips from the sky indicating the various planets and constellations, admire the stellar images and the beauty of cosmos, learn what the extrasolar planets are! During some documentaries a specialist will guide you through this amazing universe.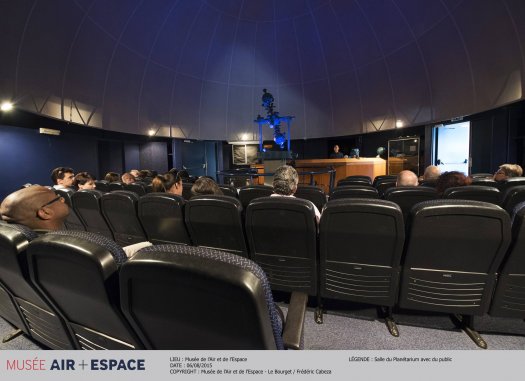 Planetarium  Paris Air and Space Museum - 93 - photo Frédéric Cabeza
Technologies
The planetarium at the Air and Space Museum includes a planetary Zeiss Skymaster ZKP3, a realistic sky of 7 039 stars, and about twenty deep sky objects visible to the naked eye: M31, M13, M22, h and k Persée, Magellan clouds ...
Three high-definition devices (1920×1080 pixels) are controlled by a multi-display option software which allows for high-quality images from three different areas within the dome.
Book your ticket for the Air and Space Museum
Useful Information for sessions
The planetarium is only open on Wednesdays and the first weekend of each month (free entrance to the museum for those over 26 years old) from 11am to 4pm. Each session lasts 30 minutes.
No reservation is required but recommended. You can reserve your entrance to the planetarium when you arrive at the Museum.
Accessible to people with reduced mobility (4 seats)
The documentaries proposed since 2016 (check out the title of the documentary and the broadcasting time) :
Discover new planets (recommended for ages 10 and up)
Journey through the solar system (recommended for ages 6 and up) 
Myths and constellations of the starry sky (recommended for ages 6 and up) 
Celestial Jewels (recommended for ages 8 and up) 
Mysteries of the Moon (recommended for ages 8 and up)
Life in the Universe (recommended for ages 8 and up)