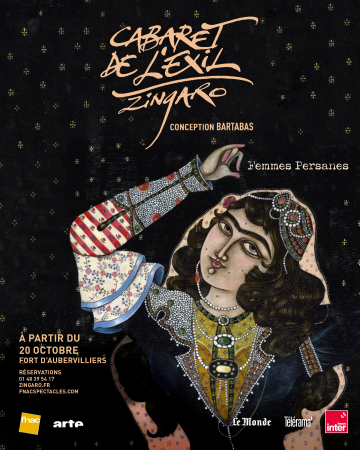 Discover Bartabas' 2023 creation at Bartabas Théâtre équestre Zingaro, Cabaret de l'exil - Femmes persanes.
After his intimate show Entretiens silencieux, and Cabaret de l'exil at the Irish Travellers in 2022, Bartabas calls on Persian artists, musicians, singers and dancers for his show 2023. Artists in exile, from Afghanistan and Iran, take part in this new show. These women claim their identity and the ancestral memory of the ancient Scythian civilization, based on matriarchy. The show pays tribute to these women, and through the voices of famous and anonymous poetesses, presents the song of a Persian woman liberated from her mystical attributes and asserting her right to passionate love.
The first part of Cabaret de l'exil paid tribute to the klezmer music and Yiddish culture of Eastern European Jewish communities. The second part, Cabaret de l'exil, was dedicated to the exile of Irish nomads. This 3rd opus is dedicated to Persian women!
Performances take place on Tuesdays, Wednesdays, Fridays and Saturdays at 7:30 pm and Sundays at 5:30 pm from October 20 to December 31, 2023.
Duration: about 1h30. The show is open to all but the Golden Square is forbidden to children under 7 years old.
It is advised to arrive 30 minutes before the show but it is possible to have a drink or a meal from 6 pm on Tuesdays, Wednesdays, Fridays and Saturdays and from 4 pm on Sundays. The theater bar is also open after the show.
book my ticket