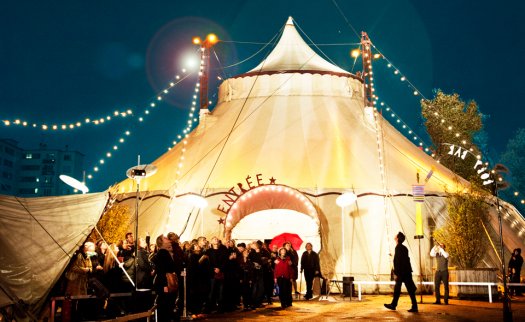 Highlight at La Villette: Villette en Cirques offers shows for the whole family!
Circus at La Villette
Enjoy a circus, magic, cabaret and puppet show in the big top area or the big hall in the heart of La Villette park. There is something for all tastes and all ages, from contemporary circus to shadow and object theater.
Circus - The 7 fingers of the hand
Show from November 9 to December 4, 2022.
Passengers is directed by Shana Carroll. Disciplines: wire or Russian frame.
Duration: 1h30
Flip Fabrique
Circus show from December 8 to 31, 2022.
Blizzard. Seven artists with their apparatus propose a circus journey followed by a singer musician on piano, guitar or banjo.
Duration : 1h15
CNAC students' show
CNAC 2023 show, 34th class from January 25 to February 19, 2023 in the Espace Chapiteau.
by Marie Molliens. Discipline: German wheel, corde lisse, acrodanse, juggling, Cyr wheel, swinging trapeze, fabrics, tightrope, Chinese mast and Korean seesaw.
Accessible to children from 7 years old.
Duration: 1h30.
Agathe Olivier and Antoine Rigot
Compagnie Les Colporteurs proposes their circus show "Cœurs sauvages". Discipline: acrobatics and music in a suspended mesh of wires, mats, ropes and fabrics.
Accessible to children from 7 years old.
Duration : 1h30
Outside the circus... dance!
The tent area also hosts two dance shows!
Pina Bausch, Germaine Acogny & Malou Airaudo from September 19 to 30, 2022
Le sacre du printemps & common ground[s]
José Montalvo from October 18 to 22, 2022
Gloria
See our suggestions for hotels near the Parc de La Villette and restaurants in the 19th arrondissement.