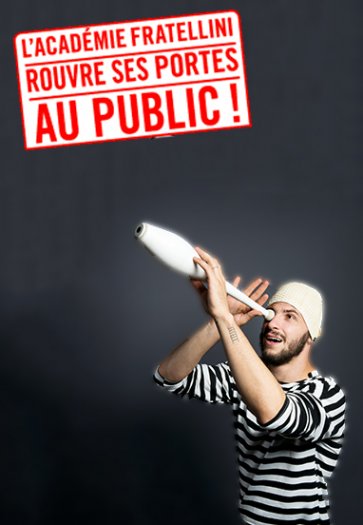 During les Impromptus festival, the entire Fratellini Academy comes into action! A true festival on circus art, this 11th edition offers a vast programme in all the different places of the Academy.
Les Impromptus Festivals: the Academy puts emphasis on science and innovation with an original immersion programme in circus art (Processus Cirque). Each programme presents the second and third year student circus artists who are still in the learning phase to present their talents and shows. On Sundays, it is 100% circus with shows, workshops and circus tips for both big and small..
The academy joins forces in key areas, not yet entirely explored, in research and development of circus arts. The festival is a spotlight on the science and technology of today and in the future…to apply to a New Circus.
Rates: 100% circus day
The ticket gives access to all the shows and activities featured at the academy within the limits of places available. Initiation workshops in circus arts dedicated to children and adults are only available to spectators with a day ticket.
Family pass: available for 2 adults and 2 children
Food onsite: Food truck
More circus shows: Chapiteau Bleu, Juggling festival, Apéro-cirque, Cirque électrique etc.