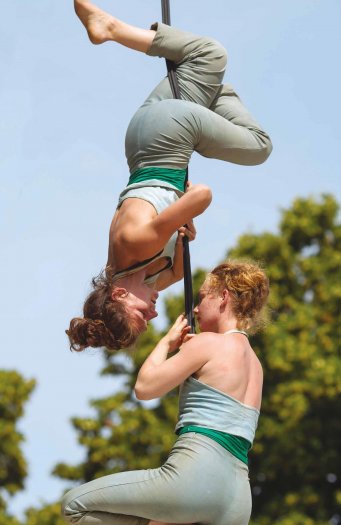 The Académie Fratellini, the heart of circus arts in Seine-Saint-Denis, is undergoing renovation work from May 2022 to May 2024. During this period, the Academy will meet its audiences outside the walls: six stops are planned, in six different cities, in collaboration with artists and partners, each time renewed. A nomadic project that aims to bring people together: the circus is thus closer to the inhabitants of the territory!
The first stop will be the Georges Valbon departmental park: from September 12th, 2022, the Académie Fratellini will settle on the grass of La Courneuve for you to be immersed in the universe of the company L'Envolée Cirque, thought up with the Houdremont Cultural Center.
Four tents will host shows, workshops, school sessions, but also apéro-cirque at very low prices and a big festive event at the end.
On the program in 2022:
From September 17 to 18, 2022: special weekend for the younger audiences, with shows and workshops for toddlers (under 3 years old!)
From September 22 to 24: ELLE/S, show with Pauline Barboux and Jeanne Ragu
From September 29 to 30 and October 2: 1, 2, 3 Fratellini: second year students at the Academy present a new creation
October1st, 2022: Circus Ball: a festive and participative event, with refreshments, circus music and dance.
It is also possible to organize group visits from September 13 to October 2nd, 2022.
For the 2023 season, the next steps are already announced:
May 24 to June 4, 2023 in Saint-Ouen (public space) by the Cie XY (the Journeys) | with the Espace 1789
July 3 to 16, 2023 in Epinay-sur-Seine - Tatiana Mosio Bongonga - Cie Basinga (Lignes ouvertes) | with the Laboratoires Eclair