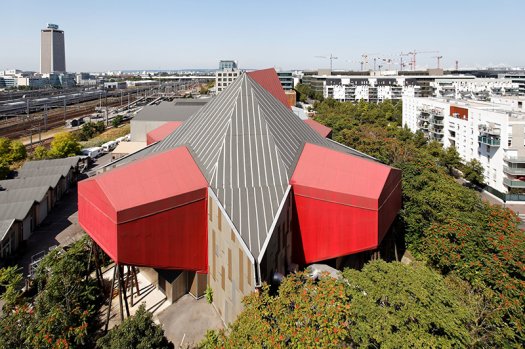 Located in Plaine Saint-Denis, close to Paris and a stones' throw from Stade de France, the academy opened its doors in 2003.
Origin of the first circus-school
The first school for circus was founded in 1972 by Annie Fratellini (the first woman to act Auguste) ; after her death her brother Paul Fratellini asked Laurent Gachet to think about a new project on the foundations of a circus school and launched thus the Fratellini Academy, a factory of inspiration.
The award-winning architecture of the Fratellini Academy
Located in Plaine Saint-Denis, not far from Paris and close to Stade de France, the academy opened its doors in 2003. It was designed by the architect Patrick Bouchain (honored with "Prix de l'équerre d'argent" - a French architecture award) who also created the equestrian theater Zingaro and did the renovation works at the Gerard Philipe Theater in Saint Denis. Construction work was carried out with recycled materials and wood, a warm architecture respectful of sustainable development.
Academy Fratellini
3 spaces make up the academy: the Altair (which means star in Arabic) is a monumental wooden tent which can accommodate 1 500 spectators, this unique platform dedicated to circus arts allows each artist or groups of artists to express themselves freely in an unprecedented scenographic space. The hall is bright and its modular design turns it into a foyer, a rehearsal hall or for shows. The Amazir restaurant (which means a free man) takes you on a culinary journey in an Arabic-Andalousian décor. The venue Fratellini Academy is an ideal option to organize all types of events; the pleasant and convivial restaurant will host your business lunches or dinners !
Circus learning and shows
A place of creation, production and circus shows, the academy proposes a unique and original program throughout the year. It is also an international circus arts training center: a three-year higher course based on contracts that alternate training with actual job placement and accompaniment offered to students. Since 2005, the Zellige option gives young and adult amateurs, the chance to explore new sensations and to understand space and equilibrium through keep-fit workshops (oriental dance and Pilates) or circus workshops with a full program of : highwire, handstands, juggling, trampoline and the most important, trapeze. In Spring 2007, the academy presented its first creation: Dédale, circus origins to invite the audience to act once again the Labyrinth myth.