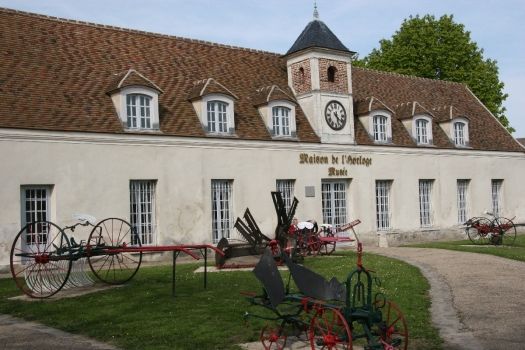 The Charles Peyre Worker's Museum showcases the traditional tools used by workers in the North East of Paris. Set up in the bâtiment de l'horloge – clock building; the last remaining part of the former manorial farmhouse, the site recalls around seventy trades of the past, organised around 5 different fields: agriculture, forestry, building trade, craftsmen and women's jobs.
The museum was inaugurated in 1983, after lengthy proceedings that resulted in saving the last vestige of this old manorial farm dating from the seventeenth century. After the destruction of the great Montfermeil castle in 1929, the old farm and the castle outbuildings suffered greatly over the years until, in 1976, the town of Montfermeil took over the last and final building also destined for destruction. Restored, it now shelters, under a magnificent structure, the tools that farmers, workers and craftsmen formerly used in the North East region of Paris. This collection of tools, established by Charles Peyre, the then president of Vieux Montfermeil and its region, continues to grow since the creation of the museum in 1990, and carries the name- musée du Travail Charles-Peyre.
The tools kept in the museum are spread out in the four exhibition halls of the museum, on two levels. The first room on the ground floor is dedicated to agriculture. In fact, its original purpose was for viticulture; vineyards having been planted on the south slope of the plateau from the sixth or seven centuries. After that, with the disappearance of the vineyards towards the middle of the nineteenth century, due to parasitic diseases and the development of the railway tracks which facilitated the transport of wine to the South, horticulture was developed, orchards and notably market gardening. So the tools retrace agricultural activities , winemakers tools (tools for pruning the vines, hoods, wine press…), Tools for market gardeners (ploughs, seeders, bell jars…) but also some tools and objects related to harvesting (sickles, sapping trenches, scythes, flails…) which recalls that the village also possessed some planted areas.
Discover our group visits for the Musée du Travail Charles Peyre.