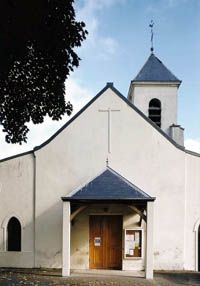 Archaeological excavations, carried out in the early 1980s, attested to the presence of a Merovingian funerary sanctuary where the present sanctuary now stands. Saint-Martin Church dates from the sixteenth century and was dedicated to the famous saint sharing his mantle in 1551. Initially, the church had just one nave. The side aisles were added in 1935. Solids buttresses supported the building, whose walls were made up essentially of sealed or plaster coated rubbles. In 1981, the first section of the building was destroyed by fire. In the building you can find the contemporary piece of art "the Way of the Cross" painted by Helen Mai. The artist is known for the renewal of fresco art using encaustic painting. This method brings an original treatment of colours and wholly characterises Helen Mai's work.
The war and its litany of desecrations
The church still possesses burial slabs dating from the period of its construction. On one of them, that of Sir Charles Maheut, several characteristics of funerary art from the sixteenth century can be found. For instance skulls dot the slabs, recalling the precarious situation of human life. This representation of death which was quite new during the Middle Ages, became a common habit in the sixteenth century. The pictorial art of this period is fully marked by skulls that are supposed to represent the remains of Adam. That's why you can find them at the foot of practically every crucifixion. The funerary slabs of the church Saint-Martin Sevran were desecrated by the revolutionary Sans-Culottes. The sanctuary was profaned again during the 1870's war against Prussians: The enemy soldiers bathed in the baptismal fonts (dating from the 18th) and used the altar as a table for their meals.
Consult our list of religious edifices in Seine-saint-Denis such as the churches of Saint Christophe in Coubron and Saint-Germain of Auxerre Romainville.