Group : Not to be missed!
From the Gothic Cathedral to the Cathedral of Sport 
Price: 55 ¤ pp / 20 persons minimum  
Available: daily, except during events at the Stade de FranceŽ or at the Basilica
Duration: 6 hours
Cathedral Basilica of Saint-Denis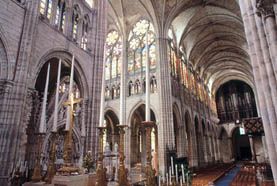 The cathedral basilica of Saint-Denis is the leading monumental masterpiece of XIIth century Gothic art and architecture.
Construction was completed during the reign of Saint-Louis in the XIIIth century and the building was restored by Viollet-le-Duc during the XIXth. It is remarkable by virtue of the diversity of its architectural styles and the wealth of its stained glass windows. The basilica is today both a parish church and a symbol of the history of France, and visitors can admire the world's largest collection of funerary sculptures, with 70 recumbent effigies and the tombs of numerous sovereigns. 
Lunch
The Stade de FranceŽ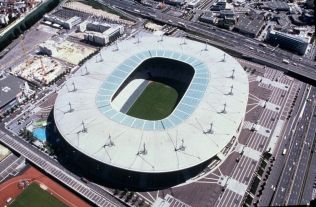 Mythical venue for the 1998 Football World Cup, this is the world's largest modular Olympic-sized stadium, capable of seating between 80,000 and 100,000 spectators. In addition to top football and rugby matches, it hosts major events such as the Rolling Stones concert, Madona, the opera Carmen, BEN HUR, the 2003 World Athletics Championships and the 2007 Rugby World Cup.