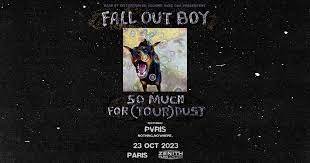 Fall Out Boy is an American rock band formed in 2001. Fall Out Boy is made up of Patrick Stump, Pete Wentz, Joe Trohman and Andy Hurley. The band returns to Paris in 2023 for their album "So much four (tour)dust".
Chicago band FALL OUT BOY uses the unbridled intensity of hardcore to lay the foundations for melodic punk pop with a heavy influence from the emo scene. On February 4, 2013, the band announced their comeback with the album "Save Rock and Roll" (released worldwide on April 15, 2013), and a tour kicked off the same day, with their first single "My Songs Know What You Did in the Dark (Light Em Up)" hitting all the radio stations as soon as it was released... After an anthology concert in a supercharged Paris Olympia on August 20, 2014, the band announced the release of a new album for October 4, 2014 (produced by Ryan Adams), FALL OUT BOY returned to France on March 2, 2014 in Toulouse, March 6, 2014 in Lille and March 12, 2014 at the Zenith in Paris.
Accommodation
Book a hotel close to the Zenith venue on the night of the concert!