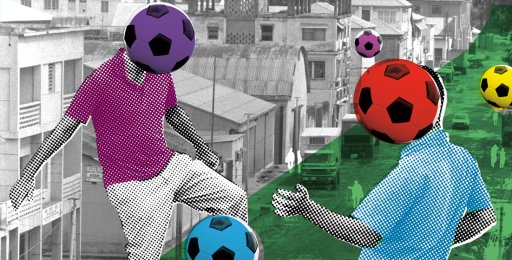 The European football championship will take place in part in Saint-Denis at the Stade de France. On the occasion of the Euro 2016, several events and activities, exhibitions, entertainments, shows, etc. around football are proposed in the north-east of Paris. Don't miss the Saint Denis Stade de France fan zone and various events.
Football, a State affair, at the national archives
This exhibition questions the links between football and the French government. With fascinating archives (plans, letters, official statements, etc.) Le foot, une affaire d'État (Football, a State affair) shows the impact that major football events have had on the country, highlighting the construction of the Stade de France for the World Cup in 1998.
Guided tours of this exhibition around football are proposed.
The "Terrain des négociations" in Montreuil
The nouveau théâtre in Montreuil proposes two week-ends of shows and conferences on the theme of football coordinated by the group "Gongle".
"La Foot foraine", a football Fair at La villette
From 5th June to 10th July, the park at La Villette will be transformed into a play-ground and football-pitch ! The "foot foraine", will be ; a themed exhibition, games, merry-go-rounds, wacky football pitches, big screen for matches and lots more sport and cultural activities all throughout the Euro 2016.
Off-side ! A circus show and freestyle football
The Académie Fratellini (circus school) is going on tour in Seine-Saint-Denis and then in the Paris region with a show around circus and football Hors jeu !
Are you one of the lucky ones with a ticket for one of the Euro 2016 matches at the Stade de France ? Check out the hotels available in Saint-Denis and surrounding areas for the Euro 2016.
Other Euro 2016 events and tips