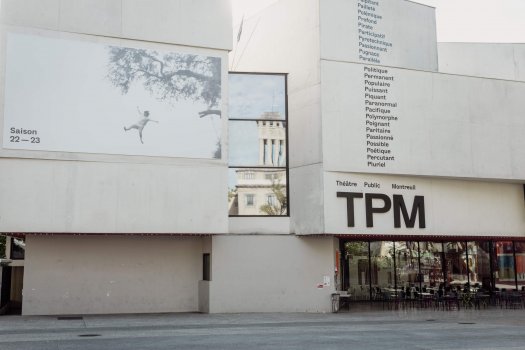 The National Center for Dramatic Art in Montreuil is a unique place of creation grouping together the performing arts : theater, dance, music, visual arts, and architecture… aimed at all public and the younger audience.
It replaces the TJS (theater for young spectators) a place devoted to children and young people. It was founded and directed for ten years by Daniel Bazilier since its opening in 1989. It is one of the key cultural centres in North-East Paris along with the Gérard Philipe Theater, Theater de la Commune, la Maison de la Culture (House of Culture) in Seine-Saint-Denis.
This brand new theater is a place of theatrical creation open to exchange and interaction of the different artistic expressions and dramatic art. Discover its architecture and programme. The construction of a new theater on the site of the former one right in front of the City Hall, was part of a renovation project in Montreuil town center. The project was supported by the architect Dominique Coulon. Re-opened since 2008, it is now known as the" Nouveau théâtre de Montreuil".
From 2000 to 2011, the stage director Gilberte TSAÏ, was theater director. Mixing the arts was the foundation of her creations working with visual artists, musicians…A varied programme is offered to the younger audience : dance, concerts, cabarets, theater, readings…. And "small conferences" allow for exchange with professionals and specialists, (philosopher or astrophysicist...) Since the July, 1st, 2011, Mathieu Bauer is the new director of nouveau theater de Montreuil.
If you're in Montreuil and you really love theatre, you can also check the Maria Casarès venue.
Don't forget to check the large diversity of parisian shows proposed in english right there!