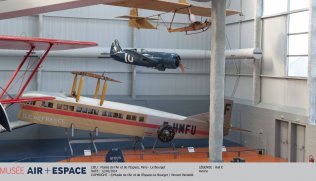 Planes from the interwar periods
The interwar exhibition space presents a collection of aerobatic planes and records as well as the first civilian carriers.
Aerobactic planes and their records between the interwar periods
Le Bourget Paris became famous with the great North Atlantic crossings. It was indeed from here that the Point d'Interrogation took off in 1930, recognizable by its red paint and the first crossing Paris - New-York direction East-West, or l'Oiseau Blanc, which disappeared during the crossing and from which only its take-off gear remains.
Another unique piece, the fuselage from a Farman F-60 Goliath shows how the first aircraft in history was made. This was to remain in service for more than ten years and it became one of the most important transport aircraft of the post war period. This plane was operated by Air France until 1933; it could carry only twelve passengers and two crew members. You will be able to see at the Air and Space Museum some front parts of the fuselage from a F.60 with its license number F-HMFU. Imagine the relative minimum comfort of these Paris-London flights from the early 1920s!
Breguet XIX - Point d'Interrogation
1930 – The aviators Costes and Bellonte were the first to reach Paris and New-York by crossing the Atlantic from East to West with the Breguet 19 Point d'Interrogation. They took off from le Bourget Paris 1st September 1930 in 10 hours 58 minutes and landed at Curtiss Field on 3rd September after a flight of 37 hours and 12 minutes. Lindbergh was onsite to congratulate them for their achievement.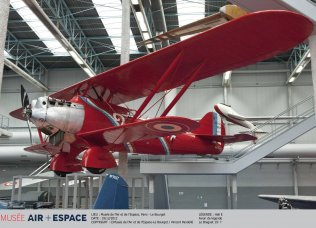 BERNARD 191 GR Oiseau Canari
L'Oiseau Canari was the second copy by Bernard-Hubert 191GR (existed in 3 copies) purchased by Armand Lotti. Three men - Jean Assollant the pilot, René Lefèvre the navigator and Armand Lotti, radio and sponsor of the flight, attempted the crossing of the Atlantic. It was from the United States, in the north of Boston on Old Orchand Beach (Maine) that, on 13th June 1929; a difficult take-off was made. In fact, they discovered a stowaway, Arthur Schreiber, an American journalist, hidden in the tail of the plane. The excess weight made it very difficult to land at the wanted landing point; they were forced to land on the beach of Cormillas close to Santander (Spain) in the night of June, 14th to 15th, 1929 after more than 29 hours of flight. The plane flew back on 16th June to Cazaux but, unable to fill up sufficiently in Spain, they had to land on the beach of Mimizan and then leave once again to reach Paris Le Bourget in the evening.
Morane-Saulnier AI n° 2283 F-ABAO
A product of Morane-Saulnier manufacture, this monoplane had an interesting performance history in terms of manoeuvrability, visibility and rate of climb. That example on exhibition - Morane orange, blue and aluminium – was particularly noticed for its aerobatics. It was with this plane that Alfred Fronval participated in a number of meetings between 1920, 1921 and 1927. The latter was test pilot and monitor at Morane-Saulnier. It was also with this plane that he won the Zurich aerial international concours de virtuosité, in August, 1927. Specialist on stunt-looping, Albert Fronval was a record holder. This plane was a bit particular as it was equipped with the reinforcements needed for aerial voltige and a surge tank to supply and feed the engine in flight on its back.
Discover Interwar planes
· Dewoitine D 530 N°6 F-AJTE (a collection of fighter aircraft Dewoitine)
· POTEZ 53
· Glider DFS "HABICHT" (competition and performance glider)
· JUNKERS F-13 (first monoplane designed for civilian operation)
· CAUDRON C-635 SIMOUN (aircraft designed to perform rapid connection which was used mainly for transport of mail)
Book your visit of the Museum!
Continue your visit at Hall aviation in 1939-1945 and aircraft of 14-18 and see more about french heritage