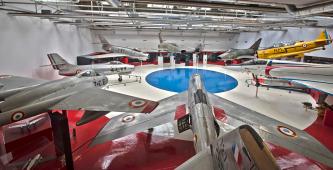 This hall was re-opened in June 2017 at the time of the Paris Air Show and was officially inaugurated in September.  The scenography of this space presenting French military aviation was redesigned with models, equipment, and flight suits on dummies and some multimedia terminals. New display cases have been added exhibiting some modern military collections.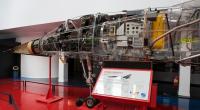 Cocarde Hall presents some major aircraft which was used by the Air Force from the 1950s to the 1970s : a Republic F-84F Thunderstreak, a Mistral, several North-American ones, etc. Discover the different air components of the French army: Navy aviation, light aircraft from the army and air force. The Cocarde hall presents the work and missions of the air forces, the innovations and technologies of the French Air Force, as well as equipment such as ejector seats and electronic war equipment.
FYI
On 10 March 1978, at Istres, the Mirage 2000 prototype (piloted by Jean Coureau) made its first flight. This hang glider is equipped with electric flight controls.
On October 6, 1992, the Mirage 2000-01 prototype joined the Air Museum at Le Bourget. It is installed in the Cocarde hall, where it is displayed with other emblematic aircraft of military aviation in the second half of the 20th century.
Permanent exhibition in several parts
Creation and history of the French military aviation
Aviation police
Close air support
Anti-submarine warfare and anti-ship missiles
Maritime Security
Relief efforts and humanitarian assistance
Intelligence services
Dissuasion and force projection
Two new areas dedicated to military aviation opened in 2015 for the occasion of the seventy years since the end of the Second World War: Hall 39-45 and the Hall Normandie Niemen.