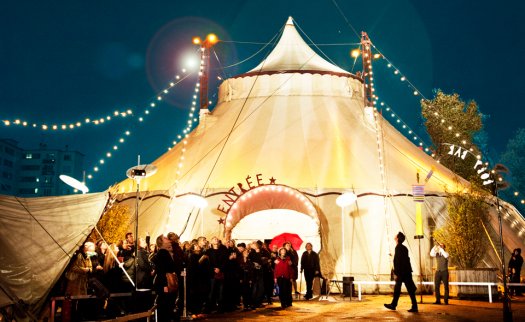 La Nuit du Cirque is a national event organized by the association Territoires de cirque to celebrate creative circus.
Circus Night in North-East Paris
Previous editions of La Nuit du Cirque have been a success, so they're doing it again! The North-East of Paris will be particularly well represented with the participation of the Académie Fratellini, La Villette, Théâtre Louis Aragon, and the Maison des Jonglages - Centre Culturel Jean Houdremont.
Shows at the Jean Houdremont cultural center - maison des jonglages
Friday November 17, 2023 at 7pm at Houdremont
Searching for John by Stefan Kinsman - Cie La Frontera
A modern-day cowboy...
Running time: 1h10 - from 6 years
Saturday November 18 at 7pm at Espace Houdremont in La Courneuve
Robert n'a pas de paillettes by Arthur Sidoroff and Juventud by Nicanor de Elia
2 shows, one 40 minutes on musical balancing and the second 1h10 on the theme of juggling with 5 juggling artists.
A show at the Théâtre Louis Aragon
Saturday, November 18, 2023 at 7pm
Esquive by Jonathan Guichard - Compagnie H.M.G
Admire and let yourself go in this show that promises a beautiful visual presence, a kind of magic on the "rebound" of appearance and disappearance, and a marked presence on light and shadow.
Duration: 1 h - from 6 years.
ENACR
Circus initiation and high-flyingdemonstration at the Ecole Nationale des Arts du Cirque de Rosny-sous-Bois.
Saturday, November 18, 2023 - at the Chapiteau de l'ENACR, 22 rue Jules Guesde for 1h30 workshops. Free, registration required
2pm - Circus workshops for 5-8 year-olds and 8-12 year-olds - duration: 1h30
4pm - Flying trapeze demonstration - duration: 30 min.
The complete Nuit du Cirque program
Find out more about contemporary circus in Seine-Saint-Denis.