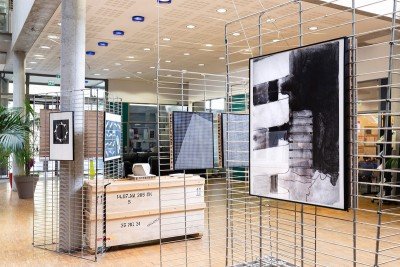 CNEAI is a national contemporary art centre located in Pantin on the ground floor of the building, Magasins Généraux. After several years in Chatou, the company settled in Pantin, in the north east of Paris where several contemporary art agencies have already set up.
The Centre National Édition Art Image is dedicated to artist publications, media and publishing. There are temporary exhibitions throughout the year.
The National Contemporary Art Centre opened in 1997. Since its creation it has carried out various functions: artist publications and the creation of a collection of publishing editions, the creation of a collection of media-works FMRA of more than 2,500 artists, the production of works available on loan with orders for artists, the creation of a museum without walls, etc. Workshops are also available.
Le Cneai offers a collaborative and multidisciplinary model (architecture, choreography, sound and visual arts, literature, sciences, etc.) to promote creative projects and exhibitions on the occasion of a free entrance and free access transdisciplinary Festival .
Cneai is open from Wednesday to Sunday from 1 pm to 7 pm.