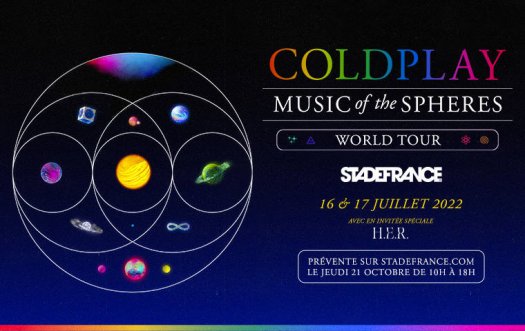 The English alternative rock band Coldplay has announced a concert in the summer of 2022 at the Stade de France. Coldplay has already come in 2017 and 2012 in the mythical Stadium and will return to Saint-Denis on July 16 and July 17, 2022 and... 19th, 20th July.
COLDPLAY at the Stade de France in 2022
The group is formed by Chris Martin (singer, guitarist, pianist), Jonny Buckland (guitar), Guy Berryman (bassist) and Will Champion (drummer). Coldplay became successful very quickly in the 2000s with songs that have become anthems such as Yellow, Trouble, The Scientist, In My Place, Clocks, Speed of Sound, Violet Hill and more recently Viva la Vida. The opportunity to listen to all these songs and to discover the new tracks of the album.
The first part of the concert you will meet H.E.R. (Having Everything Revealed); the American R&B singer.
October 2021 Coldplay and BTS sing My Universe! from the new album "Music Of The Spheres" which becomes the name of this tour - Music of the Spheres World Tour.
Book your ticket and your hotel (see button below)
Tickets
Ticket sales begin: 3 November 2021 at 10am.
Hotels near Stade de France
Consult the list of hotels near the Stadium at Saint-Denis, hotels in Paris near public transport.
Book my ticket - concert 20th July 2022