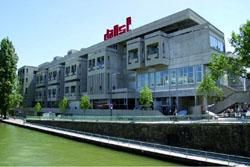 For 2 weeks Camping, a dance festival, proposes a free and rich programme around contemporary dance: classes, workshops, movies, shows, performances, Camping Kids, an exhibition, School Marathon…
Camping reaches out to the entire world of dance: students, teachers, choreographers… but also to the general public, dance enthusiasts or spectators. This contemporary dance festival is the occasion for professionals, universities and the general public to get together.
Camping takes place in CND (National Dance Center) in Pantin, and also in Lyon and in the Île-de-France region.
Camping Festival program 2022
You will be able to attend to one workshop per week with a very large offer (from baroque to contemporary, from hip-hop to bollywood etc.). You will also be able to understand the creation process during which sharing techniques and ideas is a necessary step.
A workshop is a 5 sessions engagement led by an artist invited from monday to friday. Some workshops end up with a show.
The price of the weekly workshops also give access to the lessons of the schools invited. You can enroll on CND.fr starting from April 2020.
The choreographers of Camping 2022
At the CND Pantin: pending
Shows and performances
Book your show from may 2022.
Exhibition
Coming soon
Schools marathon
Dancing schools invest the studios of the CND for the School Marathon. Free access.
For dancing amateur
The CND of Pantin will turn into a short-term studio with free access for amateur monitored by the choreographers invited to the workshops of Camping. This is a unique and friendly opportunity for the largest public possible to exchange and learn with international artists.
Free Giant classes
Free access to giant classes at the CND. Dance amateurs will be able to attend to activities proposed by famous choreographers.
For children: Camping kids
Camping kids proposes a special program for children. The entry is free of charge but you need to book!
Camping festival: practical information
Where to sleep in Pantin near the Dance National Centre?
You can book a hotel in Pantin near the CND or book a room in a hotel in Paris 19th arrondissement. You can find a few youth hostels around Paris La Villette.
Discover Pantin
Mairie de Pantin district has remarkable places and points of interest such as architectural curiosities, restaurants and the Ourcq Canal.