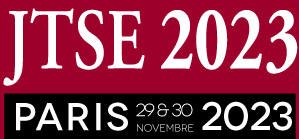 See you at the Journées Techniques du Spectacle et de l'Evènement!
These meetings take place at the Docks of Paris (Dock Haussman and Eiffel). Various spaces are proposed: one private is dedicated to companies, the other is dedicated to Techniques,...
JTSE lounge in the Pullman Dock (rooms on the 1st floor can be rented for meetings).
JTSE Audio & Video training in the Hausmann Dock
JTSE Lighting in the Eiffel Dock
Conference and round table spaces
Various conferences and round tables are proposed each year. The program is online on the official JTSE website.
The JTSE audio training and arts and techs lab, Lighting
Spaces are dedicated to audio companies in the Dock Haussman (6 Training workshops, three conferences at the Arts & Technologies Laboratory, five round tables of SNELAC and Editions AS).
The Eiffel Dock hosts everything related to Lighting.
Admission is free upon reservation from the JTSE website.
Opening hours :
1st day from 9:30 am to 8 pm / 2nd : from 9:30 am to 6:30 pm
Book a hotel near the Dock Pullman - Magasins Généraux
We propose you a list of various hotel chains near the Docks of Paris or Magasins Généraux, book a hotel room in Paris near Gare du Nord or Gare de l'Est. If you prefer to go by car, you can rent a car upon arrival at the Paris train station in the various rental agencies located in the Gare du Nord and Gare de l'Est.
If you are arriving from Roissy CDG airport and are looking for a hotel, you will need to take public transport or book a rental car at Roissy Pôle.