Practical accommodation options can also be found along the main road axes, close to the main Parisian train stations and in the heart of the capital.
Parc des Princes Paris and Stade de France Saint-Denis host many sports events and concerts as well as huge scale shows. Other matches and events are held in other Paris stadiums : for example Charlety and Jean Bouin. Hotel capacity around the stadiums is satisfactory which makes it possible to find a hotel room near main roads which lead to Paris or within Paris itself. These stadiums are easily accessible by Parisian public transport or by other means.
Accommodation in the area Plaine Saint-Denis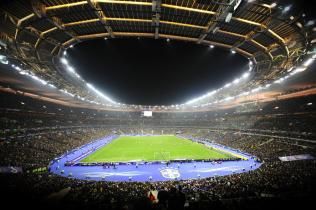 Finding a hotel near Stade de France is very easy if you book in advance. The closest hotels close to Stade de France are located in the business area of Plaine Saint-Denis and close to Porte de Paris. Many hotels are situated along the A1 motorway and close to the RER B which are very practical ways to get to Stade de France. If ever these establishments are fully booked, which is often the case on match days, you can book a hotel room close to Gare du Nord, one station from the stadium. Several budget friendly hotels are located around the Gare de l'Est.
Hotel at Porte d'Auteuil and Porte de Saint-Cloud
Parc des Princes and Jean Bouin stadiums are located in the 16th arrondissement of Paris a few minutes from Boulogne-Billancourt. You will find a good selection of hotels close to Porte de Saint-Cloud et not very far avenue de Versailles. From the hotel, you can reach Parc des Princes or stade Jean Bouin on foot in a few minutes. Many hotels are located near Porte d'Auteuil and in Boulogne. These accommodation options are also close to the stadium at a walking distance from the hotel.
Accommodation close to Charlety stadium
Charlety stadium which hosts athletic games, football, rugby, American football, is located on avenue Pierre de Coubertin in the 13th arrondissement of Paris. It houses Charpy Hall, the multi-purpose sports and fitness hall with 1500 seats and the French Maison du sport. Accommodation options are plenty near Charlety stadium, in the 13th arrondissement of Paris. Browse through the list of hotels close to Citť Universitaire of Paris a few steps from the stadium.
Staying in the centre of Paris
Consult our accommodation pages if you are looking for a hotel room in the center of Paris : close to the Latin quarters, Ch'telet Les Halles, these tourist areas attract many visitors and hotel capacity is very high. It is very simple and easy to get to a match or concert venue from the capital by taking RER line B for Saint-Denis and the metro line for Parc des Princes.
You want to come in a group to a Parisian stadium : where to stay?
If you are a group attending a match or a concert at Stade de France or Parc des Princes, you can book accommodation in a youth hostel.