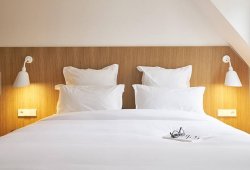 While visiting the Paris region to see a match or attend a trade fair, you need to book a hotel or aparthotel.
Questions and answers on the theme of hotels
This question and answer sheet on hotels will perhaps answer some of the frequently asked questions by hotel guests but also by hoteliers.
Hotel selection
The Seine-Saint-Denis Departmental Tourism Committee gives free on line access to hotels situated around République in Paris, Châtelet-les-Halles and the canal Saint-Martin quarter, etc., and all accommodations options situated in the Seine-Saint-Denis region and hotels in the airport area in Roissy CDG. It offers lists of hotels near tourist sites, where to stay near a metro station, bus line, etc.
Do you sell hotel reservations ?
The Seine-Saint-Denis Departmental Tourism Committee is not a reservation centre. You can, however, book your room via our button "reserve" which will direct you to the central booking system. From here you can reserve or contact the hotel directly by telephone or via their web site.
What is an affordable hotel ?
We follow the classification Atout France concerning hotel rankings. You can book a 1-star or 2-star hotel considered super-budget. A 3-star hotel is classified as budget accommodation.
Is it possible to book more than one room ?
You can indeed book several rooms however some hotels demand that you contact their group booking service. Consult our list of hotels in Paris, Seine-Saint-Denis able to accommodate groups.
Can I bring my bicycle to a hotel in Paris, Ile-de-France?
Some bike-friendly hotels in Paris and the North-East of Paris offer  a  bicycle-minding service during your stay.
How do I get to a hotel in Paris or in Seine-Saint-Denis ?
You can find the different bus stations, metros, motorways close to the hotel on the description sheet. The address of the establishment is also given on your booking confirmation. You can contact the hotel or print out your itinirary from the RATP web site (metro and bus), Transilien (for the RER) or from other itinerary sites ( like CityMapper)  for the journey by car. You can also think of renting a car with the different car rental agencies.
How do I get to the hotel from the airport ?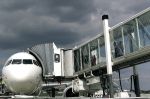 On foot, by bus or RER, hotel shuttle service, you can easily get to your hotel from Paris Roissy Charles de Gaulle airport. Transport is well served whether you stay in the Roissy-Tremblay area or in the surrounding towns. Moreover, the Roissy bus station is the departure point for buses and coaches.
How do I get around Seine-Saint-Denis ?
A large route network of RATP and non-RATP buses (ViaNavigo), RER stations run through the department. You can usually find a solution on the public transport system to get from one site to another. Towns on the edge of Paris are served by the last stop  of certain Parisian metro lines (lines 13, 9, 7, 5,14,11) which is really convenient.
What is the minimum age to book a room ?
You must be 18 and over to book and stay alone in a hotel room. Otherwise you must be accompanied by an adult.
How do I cancel a reservation ?
Before anything else, it is necessary to check  the cancellation conditions on the site and on the email that you received when confirming your booking as some bookings cannot be cancelled or postponed. Apart from this a cancellation or modification fee can be applied if you do not respect the cancellation/modification conditions of the hotel such as cancelling within a set period of time. You can contact the hotel directly or go through the central booking system and follow the procedure on line.
Your hotel near the Stade de France
Are taxes included in the price of the room ?
This information is given on reservation and on your confirmation email. Tourism tax varies according to the towns and accommodation category ; it must be paid for every hotel occupancy.
Is the price indicated per person or per room ?
All prices indicated are per room and per night unless otherwise stipulated on the site.
Rooms for persons with reduced mobility, family rooms
A large proportion of hotels propose rooms that are accessible for people in wheelchairs (PMR – persons with reduced mobility) either on ground floor level or accessible with an elevator .
Family rooms include either a large-sized room or two rooms with communicating doors. If requested, a child's bed can be provided ((but must be specified when making the reservation).
Is breakfast included in the price ?
In general breakfast is not included in the price of your room reservation. You must specify on reservation if you are taking breakfast (which will be billed). You can if you wish request breakfast the same day ; you will be asked to pay a supplement on site.
What are the opening hours applicable in the hotels ?
Reception desk hours depend on the different establishments. Almost all can welcome you 24/7 either in person or from a terminal with your access code that you received after booking. The day of your arrival you can have access to your room around 3/4pm (times are indicated on the confirmation mail). Most times you are requested to leave the room from 10/11am ; some hotels allow for a « late » departure allowing you to leave at midday.
Are pets allowed ?
Reception conditions of pets are indicated on the hotel web site. When an establishment accepts animals (depending on size and type) extra charges can apply on reservation. Note that it is not possible to arrive at the hotel with your animal without notifying the hotel in advance.
Is it possible to have access to the internet from my room ?
Now almost every hotel establishment gives access to wifi. It is free for the most part. In spite of this it can be considered an extra charge in some hotels and is specified on their site).
My question is not in this question and answer sheet !
Forward your hotel demand in the north-east of Paris and we will answer you ! Send your message to : info@tourisme93.com