Where to sleep during the international Paris Air show close to Le Bourget exhibition center and Air and Paris Le Bourget business airport.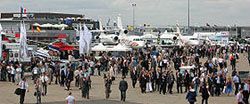 In 2023, the air show will be held from Monday 19th to Sunday 25th June. Visitors from around the world are expected at Le Bourget. In terms of accommodation, many establishments located close to Le Bourget Airport are already sold out. This is the reason why exhibitors and visitors opt for a hotel conveniently located in the greater le Bourget area, along public transport lines (line B, metro line 7, Bus 350, Bus152) and the motorway A1 as well as close to the main railway stations. It is possible to find a room in the center of Paris. Book your hotel now for the next show.
Ticket - Paris air show 2023 le Bourget
Hotels in the immediate proximity of Paris Air Show
All accommodation close to the Paris air show is located in the immediate proximity of Le Bourget exhibition center, in the cities le Bourget and Blanc-Mesnil.
Hotels in the proximity of the Paris air show and le Bourget
Hotels near Villepinte exhibition center
Hotels near motorway A1 and RER line B

Paris-Villepinte exhibition center and Roissy CDG Airport are only a few minutes away from Paris Le Bourget exhibition center. Line B links all of them, thus constituting an excellent location for accommodation close to the air show and offers a wide choice in terms of accommodation (low price, mid-range and luxury hotels). A free bus shuttle service transports visitors from Le Bourget RER station to the Paris air-show entrance. You can also get to the exhibition center via the A1 motorway by car.
Bus 350: half an hour to Paris Air show

To go to Paris air show from one of the public transport stations, take bus 350; leaving from Porte de la Chapelle (line 12 - metro). It is very convenient as it will drop you directly at Le Bourget Exhibition Park and Air and Space museum. Get off at the stop Michelet-Parc des Expositions or Musée de l'Air et de l'Espace. 
Book a hotel near Gare du Nord station
Book your accommodation close to Gare de L'Est station
Book a hotel near Porte de la Chapelle (take bus 350 - stop Air and Space museum)
Central Paris

The center of Paris could be an interesting solution also for accommodation during the aviation air show as many hotels close to it are often sold out. The RER B makes it easy to get to Paris-Le Bourget Exhibition Park (free bus shuttle service at Le Bourget to the exhibition park). Of course it is also possible to get to the park by car on the A1 motorway or by taxi.
Book a hotel in Central Paris
Book a hotel in the Latin Quarter