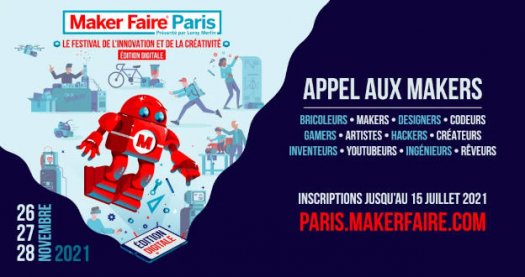 The travelling Maker Faire will stopover in some major towns in the world, Europe, and in France (Lille, Grenoble). It will be back once more in Paris, La Villette at the Cité des sciences et de l'industrie!
MAKER FAIRE 2021 will be held 100% online
What is Maker Faire?
The aim of Makers is to transmit to a vast number of participants the know-how of "do it yourself", either on the theme of new technologies, of creative leisure, of craftworks, of sustainable development, of sciences or of loads more. Everything is explained through demonstrations given by experts, discovery workshops, shows and conferences around the themes of creativity, fabrication, and the Do It Yourself culture.
Examples of workshops: 3D printing, Drones, Electric vehicles, Fabrication, Art & Design, Craftworks, Video Games, Open Source, Music, Electronic...
The Community of Makers welcomes you at the fair over a whole weekend to help you in your project.
November, Friday will be especially dedicated to small children and schools on the occasion of Maker Faire Paris Education Day.
The Parc de La Villette will host Villette Makerz which offers workshops and DIY activities all year round.
Hotels near Cité des sciences et de l'industrie
Check the list of hotels close to La Villette - Paris.
Hotels near the metro line 7 that goes directly to Cité des Sciences (exit Porte de La Villette). You can also opt to book your hotel room close to a metro station on line 5 near Grande Halle (exit Porte de Pantin), and simply walk across the park to get to the Maker Faire.
Or else you can book a bed or bedroom for several people in a youth hostel in Paris.
During your visit to discover the district of La Villette – Paris