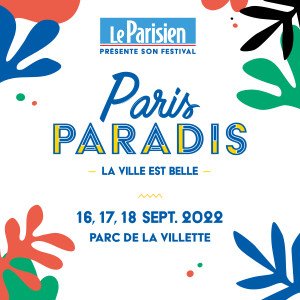 Paris Paradis is a music and stand up festival organized by the journal Le Parisien in the Park of la Villette. This fourth edition invites you to take part in concerts where well-known and emerging artists will hit the stage. You'll also be able to enjoy stand up shows on sundae and a plethora of activities and animation such as fireworks and cabaret night.
Concerts during Paris Paradis
Peter Doherty & Frederic Lo, Mickey 3D, Cats on Trees, Santa, Guy2bezbar, Bianca Costa, Emma Peters and more will heat up the stage.
Stand up shows
On Sunday, the Cabaret Sauvage invites you on a 100% stand up comedy day. You'll be able to laugh and enjoy stories from Waly Dia, Morgane Cadignan, Panayotis Mascot, Baptiste Lecaplain, Ahmed Sparrow, Laura Domenge and more.
You can buy tickets to the Paris Paradis festival as of now: you can buy a 3-days concert or stand up pass, if you want to dance and have a laugh you can buy a full pass that'll give you access to concerts and stand ups during the whole festival. If you only want to attend a particular day you can also buy a single ticket.
Family workshops
Families can take part in free and open access activities : meetings and talks about ecology in big cities, climate fresco workshop, physical activities such as yoga, tai-chi, climbing and boules you can even meditate and get a massage. There also will be children animations, cooking and zero waste workshop... Free access to the Prairie space from 11am on Saturday and Sunday.
Opening hours
Friday 16th of September : From 5h30pm to 2am
Saturday 17th of September : From 11am to 2 am. Animations start at 11am. Showcases and stand up start at 2pm
Sunday 18th of September: From 11am to 11h30Pm. Animations start at 11am. Showcases and stand-up start at 2pm