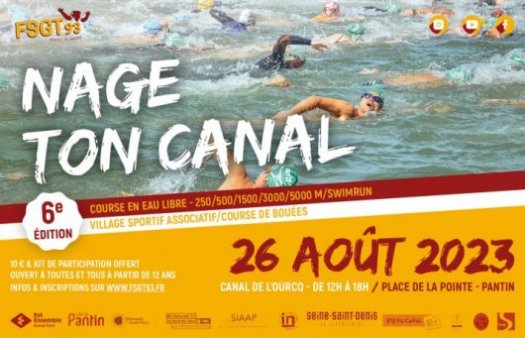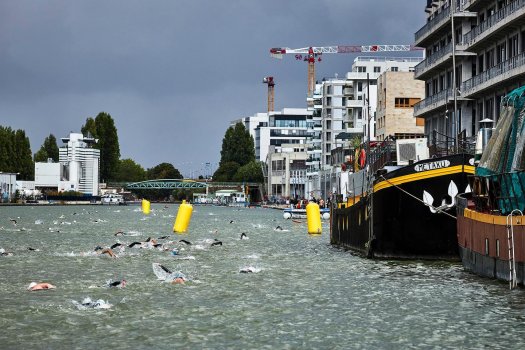 "Nage ton Canal!" is a 5000 m swimming race in the Ourcq canal organised by FSGT93.
The times will be measured with an electronic stopwatch (maximum accuracy of time measurement). The water of the canal will be tested before the race on the sanitary level (bacteriological analysis) by a duly authorized laboratory. Lifeguards will be present on the banks and on canoes.
Swimmers will collect their participation kits on site at 12:00 (time to be confirmed) at the welcome stand. They can pay directly on Internet or on the spot the same day (by check to the order of the FSGT93 or in cash). Copy of the license and/or a medical certificate of non-contraindication to the practice obligatory.
Waiting for the schedules for 2023:
Race of buoys at 14h15
Start of the 250m and 500m and 1500m swims at 4pm
Start of the 3 000 m and 5 000 m
Awards ceremony from 5:45 pm
Free sports activities and games will be proposed on the Place de la Pointe in Pantin.
The enrollment costs 10€ and is open to all swimmers starting from 12 years old who have a licence or a medical certificat.
The swimmers will get their participation kits and pay on site (by cheque to FSGT93 or by liquid) at 9 am at the reception. A copy of the licence and/or of a certificat of non medical contraindication is compulsory.
Other races are proposed in the Ourcq canal and the La Villette Basin like the Garmin Trathlon, the Open Swim Stars or Run&Fun which is also a running and cycling race.
You can also check what to do in summer in Paris around the water.
Nage ton canal 2022 - video