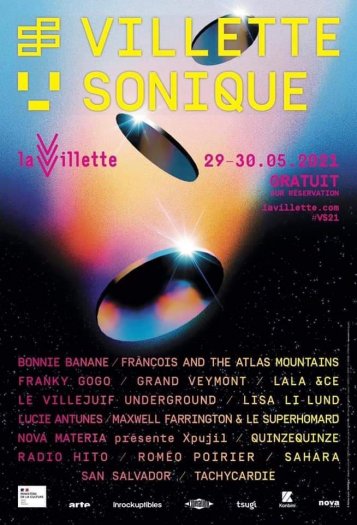 A Spring rendez-vous not to be missed: Villette Sonique
Discover the Grande Halle de la Villette, the Cabaret sauvage, the Trabendo and of course Cité de la Musique-Philharmonie de Paris and walk around the gardens of La Villette during a calm evening. Who knows? You might fall on one of the best music events you've ever seen by simply turning around a corner.
The festival Villette Sonique 2022 is in pause this year. While waiting for the return of Villette Sonique in 2023, rediscover the concerts proposed in 2021 in the park.
Programme of Villette Sonique
The concerts of La Villette Sonique will take place in the Grande Halle, the Trabendo, the Cabaret Sauvage, the Espace Périphérique and in the Little Villette. Some of them are free.
Saturday
Sunday
14h : Tachycardie + Radio Hito at Jardin des Iles
17h : Le Villejuif Underground + Maxwell Farrington & Le Superhomard at Jardin des Iles
14h : Quinzequinze + Lucie Antunes at Périphérique
17h : Lala &Ce + Bonnie Banane at Périphérique
Book your free outdoor concerts en Plein Air of Villette Sonique festival from the 11th of May
The free concerts of Villette Sonique are in free access, otherwise you can book your places on villettesonique.com.
Check other summer events and activities in Paris.
Hotels for one night or more at La Villette - Villette Sonique Festival
Are you looking for a hotel in Paris, near La Villette ? Browse through our selection of hotels in Paris, not far from the metro station, a hotel near the Parisian metro network and at - Gare du nord or Paris Est stations, or book a room in a youth hostel in Paris.
Are you looking for a hotel near Roissy CDG international airport for an overnight stay before your departure and arrival ? – browse through our pages.
For a cheap and budget friendly location, some hotels are located a bit further away but are all easily accessible by the Parisian transport network or book a hotel room near the metro line 5 (Pantin, Bobigny).
Book my ticket - Villette Sonique #VS21