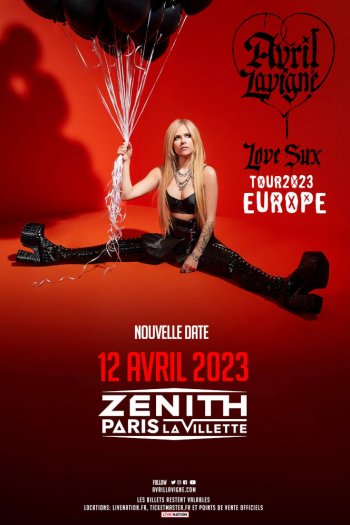 Avril Lavigne stops her tour bus in Paris for an unforgettable concert in 2023 during her world tour.The concert which was initially planned for 2022 has been postponed to next spring.
Avril Lavigne Tour in Paris
The Canadian singer known for international hits such as complicated, what the hell, girlfriend and Smile is hitting the road for her tour. The "Head Above Water" tour, which began on September 14, 2019, stopped during the Covid-19 pandemic. After more than 5 years of absence, it is a highly anticipated return to the stage of the pop-rock singer for the European leg of her Love Sux TOUR!
Which hotel near the Zenith of Paris?
Check our list of hotels near the Zenith Paris la Villette. If you want stay in the heart of Paris make sure to book a room in a hotel that's close to the metro line 5 which will take you to the Zenith in no time. For example check out rooms near the Gare du Nord.
Buy my ticket - concert at the Zenith of Paris