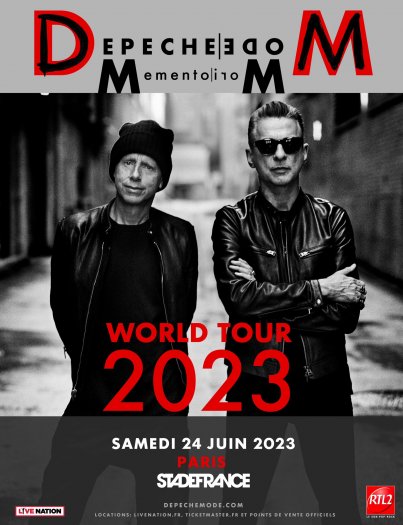 Depeche Mode will be in concert on Saturday, June 24, 2023 at the Stade de France as part of its world tour "Memento Mori". This is not the first time that Depeche Mode will pass by the Stade de France. The band, originally from Basildon in Essex, has been a regular at the Palais Omnisport de Paris-Bercy before coming to the Stade de France.
Ticketing info :
Pre-sale: October 10 at 10am
Ticket office opening : October 11 at 10am
Depeche Mode, consisting of Martin Gore, Dave Gahan (after the departures of Vince Clarke and Alan "Charlie" Wilder and the death of Andy Fletcher), began its career in 1981 within the label Mute. It was in the mid-80s that the band from Basildon, East London, started to make a name for themselves with black hits like Master and Servant, Black Celebration or Stripped, titles that follow the gentle Just Can't Get Enough. Their repertoire includes major rock and synthpop albums from the 80s and 90s such as Black Celebration, Music for the Masses, Violator, Songs of Faith & Devotion and ULTRA, as well as countless other hits.
4th time at the Stade de France
This is the fourth concert of Depeche Mode at the Stade de France after its first passage in Saint-Denis in 2009, 2013 and 2017. The group has already played in the past at the Bains Douches and many times at the Palais des Sports in Paris Bercy.
Opening act
The first part of the DM concert has not been announced yet.
Accommodation, where to sleep ?
See the list of hotels near the Stade de France.
Ticket - Concert Depeche Mode Paris