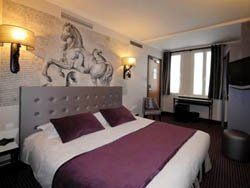 Hotel Des ducs D'Anjou enjoys a prestigious location between Georges Pompidou, Cathedral Notre Dame, and Louvre museum in the swanky and posh Le Marais area in Paris.
The friendly multilingual 24-hour room service staff offers all information visitors may need to make the most of their holiday or business trip in Paris. The hotel boasts fine Parisian-designed-rooms. Laundry facilities and cleaning services are included.
Just a few blocks away, the station Chatelet les Halles provides access to wide carefree travel around the capital and connects visitors to most of the main stations and all Parisian international airports in less than one hour. Visit most of the iconic monuments and explore Paris and the surrounding area effortlessly and stress-free.
See some of the most visited French world-famous highlights in Seine Saint Denis via the RER, the Parisian safe and cheap public transport: the mythical out-of-the-ordinary stadium the Stade de France in Saint Denis, the Air and Space museum in Le Bourget, the royal Basilica of Saint Denis and the Saint Ouen Flea market.
Visit the venue Paris le Bourget exhibition center, an amazing opportunity to explore this unusual structure with astonishing outdoor demonstrations. It is the showcase of large scale events such as the world-famous biannual Paris Air Show.