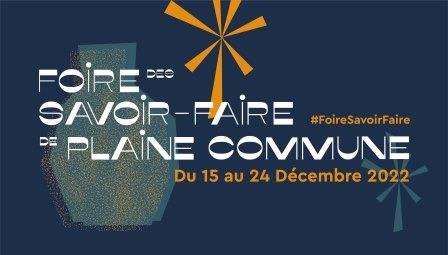 What is the "Foire des savoir-faire solidaires"? The Fair of Solidarity Know-How is an unusual and popular showcase. It honors the beautiful, the creative and the solidarity of the inhabitants of our territory-world. The fair materializes the cooperation between these people with complementary skills and professions. Its main features are inspired by our heritage and our history, while unfolding the red thread of our future projects. Here, everything is worked, recovered and transformed: leather, fabric, cardboard, glass, raw metals, food, images and sounds, signs and words. Creation is everywhere!
Because these actors contribute to another economy, here, the values of cooperation, sharing, commitment, responsibility towards humans and the planet are exposed.
Program of the 2022 Know-How Fair, "Foire des savoir-faire solidaires", will be held in 3 cities of the territory:
Foire des savoir-faire in Saint-Denis from December 15 to 24, 2022
Foire des savoir-faire in Aubervilliers - date to come
Foire des savoir-faire solidaires in Stains - date to come (place du Colonel Fabien between 11am and 6pm). Market with craftsmen and creators.
Come and meet the creators in a warm and friendly atmosphere. Products and craft skills of the territory, products from fair trade and the Confederation of Farmers, economic initiatives and responsible consumption will be present.
Opening hours of the Foire des Savoir-Faire
Weekends: 10am to 8pm
Weekdays from Monday to Friday: 11:30 am to 7:30 pm