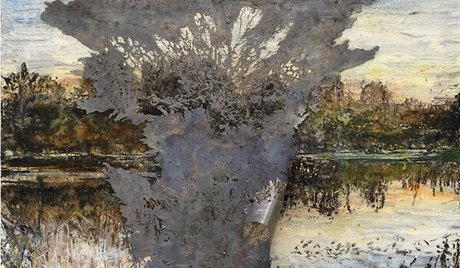 Anselm Kiefer returns to the Galerie Thaddaeus Ropac Paris Pantin in 2022 to exhibit his new work Hommage à un poète. The artist presents 18 new large-scale paintings. Anselm Kiefer pays tribute to the poets Paul Ceylan, Ingeborg Bachmann, Osip Mandelstam and August von Platen. The exhibition follows on from the one at the Grand Palais Éphémère, Pour Paul Ceylan.
The artist had inaugurated the gallery in 2012 with his exhibition Die Ungeborenen and has participated in several exhibitions at the Ropac gallery: Space age in 2015 or Déjeuner sur l'herbe in 2017.
In 2018, he exhibited his series Für Andrea Emo composed of about twenty medium to monumental sized pieces and three sculptures. The artist addresses the themes that are familiar to him: the sedimentation of memory, destruction and regeneration, fragment and remembrance. Andrea Emo is an Italian nihilist philosopher of the 20th century, a major figure of the new metaphysical thought. He voluntarily lived in seclusion and away from the academic world. This philosopher develops a particular vision of time, the central element of which is memory. A book of excerpts from Anselm Kiefer's diary has been published to coincide with the exhibition.
Discover locations dedicated to contemporary art in Northeastern Paris.