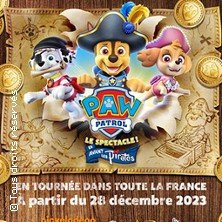 PAW Patrol show Pat' Patrouille... pirates on!
Join us on stage for this rhythmic musical show featuring children's favorite characters.
It's the story of a surprising race between Mayor Goodway of La Grande Vallée and Mayor Hellinger of FoggyBottom. Captain Turbot falls into a dark and mysterious cave, but is saved by the Pat'Patrouille. There they discover a secret pirate treasure map. Naturally, Mayor Hellinger wants to find it. That's where the Patrol comes in! Chase, Marcus, Stella, Ruben, Rocky, Zuma and Tracker set off on a mission on the sea.
During the show, children will be reminded of the locations from the TV series.
Running time: 1h30
How to get to Le Zénith de Paris, where to eat?
Book your tickets for the family - Pat' Patrouille show