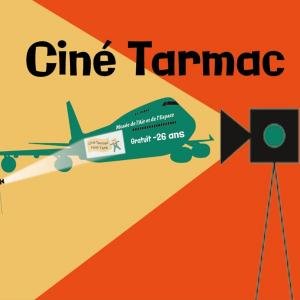 Come and see a movie on the tarmac on a Saturday night!
From July 24 to August 21, 2021, try the cinema experience; come and see the films on the giant screen while being installed on the tarmac not far from the mythical rockets and planes. These film sessions are based on the theme of aeronautics and space.
Take a night tour of the museum with guided tours starting at 6pm, then meet up at 9pm on the tarmac to watch the film session... on an unusual screen: the fuselage of the Boeing 747!
Deckchairs will be installed for the event but you can come with your folding seat, blanket... (drinks and food are forbidden, the Helix restaurant will be closed). Placement is on a first-come, first-served basis. The projection area on the tarmac will open at 9pm for you to settle in!
Yoga and massage sessions will be offered this year, as well as thematic guided tours of the museum: Women in Space, Space, between reality and fiction, and the Mechanical Jewelry exhibition.
Program of Tarmac 2021 movies at the Air Museum
July 24, 2021: E.T. The Alien
July 31: Les Figures de l'ombre
August 14: 2001, A Space Odyssey
August 21, 2021: Moon
Don't miss the screenings and conference during the Night of the Stars at the Air Museum on August 7, 2021.
Practical information about Ciné Tarmac
16€ for people over 26 years old (headphones included)
Free admission for under 26 years old.
In case of rain, a projection on a large screen will be proposed in the Concorde Hall.
You must wear a mask during your visit to the museum! (not provided on site)
Take advantage of your visit to rediscover the Air Museum after its renovation!
Outside the walls... l'été du canal (summer festival) offers workshops, visits and activities in July and August 2021 or Paris Plage, Open air cinema Paris la Villettte.