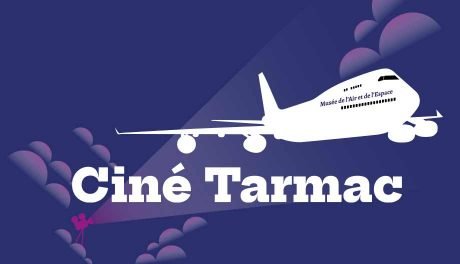 Come and see a movie on the tarmac on a Saturday night!
From July 22 to August 27, 2022, try the cinema experience; come and see the films on the giant screen while being installed on the tarmac not far from the mythical rockets and planes. These film sessions are based on the theme of aeronautics and space.
Take a night tour of the museum with guided tours starting at 6pm, then meet up at 9pm on the tarmac to watch the film session... on an unusual screen: the fuselage of the Boeing 747!
Deckchairs will be installed for the event but you can come with your folding seat, blanket... (drinks and food are forbidden, the Helix restaurant will be closed). Placement is on a first-come, first-served basis. The projection area on the tarmac will open at 9pm for you to settle in!
Program of Tarmac 2023 movies at the Air Museum
Friday, July 7, 2023: Black Box
Saturday, July 8, 2023: Apollo 10 1/2
Sunday, July 9, 2023: Top Gun Maverick
2023: Pre-sales open, sales on site subject to availability.
Entertainment
Friday 7 and Saturday 8 and Sundy 9 : Up to Space / Moon Jump / exhibition
July 7, 2023: "Black box evolution" workshop, "Air safety" workshop, Tour: History of the terminal building
July 8, 2023: Rocket workshop, Probes and satellites workshop, Unusual visit to the Up to Space exhibition, A morning in Space, access to the media library and free reading... "it was 1969
July 9, 2023: Mystery IV experiment, Music workshop, Ejection seat workshop, Relaxed glide, "Pilot training" à la carte program
Don't miss the screenings and conference during the Night of the Stars at the Air Museum on August 6th, 2022.
Practical information about Ciné Tarmac
16€ for people over 26 years old (headphones included)
Free admission for under 26 years old.
A shuttle will be available to Gare du Nord in the late evening (number of spots limited). The RER B will be under construction this summer, so please be aware of the opening hours. The alternative solution is to take the metro 7 stop "La Courneuve - 8 mai 1945" then the bus 152 (same for the return).
In case of rain, an indoor screening on a large screen will be organized in the Concorde Hall.
Take advantage of your visit to rediscover the Air Museum after its renovation!
Outside the walls... l'été du canal (summer festival) offers workshops, visits and activities in July and August or you can also attend Paris Plage if you want to take a swim.
Related: Open air cinema Paris la Villettte.