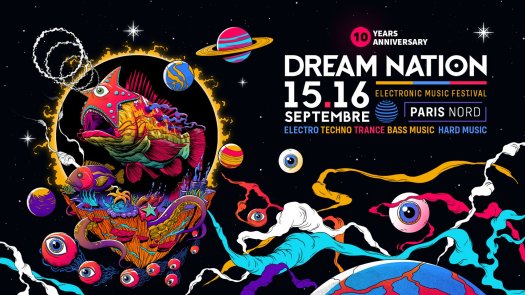 The Dream Nation festival will take place this year in 2023 at Villepinte - parc des expositions for 2 days of celebration. The Dream Nation 2023 festival marks the 10th anniversary of this unmissable event for electro music fans!
Dream Nation Festival awaits you in 2023
The Dream Nation party will bring together all genres of electronic music: Electro, Techno, Trance, Dubstep, Drum & Bass, Hardtechno, Hardcore ... there is something for everyone.
The 2023 program at the Parc expo du Bourget is online on the Dream Nation website. On the program of this festival impossible to circumvent of the Parisian night: 4 stages, about forty artists and amazing video installations, the whole in the open air.
Dream Nation 2023 line-up
Dream Nation Friday September 15, 2023
Opening of Dream Nation on Friday, September 15, 2023 from 10:30 pm to 7 am.
Techno Stage : programming to come
Hard Music Stage : programming to come
Dream Nation Saturday September 16th 2023
Main event and Closing on Saturday September 16, 2023 from 10:30 pm to 7 am
Trance Stage : programming to come
Bass Music Stage : programming to come
Dream Nation ticketing
Book your pass for the two Dream Nation parties or for Friday or Saturday.
Entrance door R.
Hotels and transportation at the Paris Nord exhibition center
Find a hotel near the Villepinte exhibition center to extend the party. If you have already booked a hotel in Paris Gare du Nord (near RER B), no problem... take the RER B to the "Parc des expositions" station and then take the bus or walk a little.
How to get to the Villepinte exhibition center.
Don't miss the Festival Cercle and the festival Obsession.