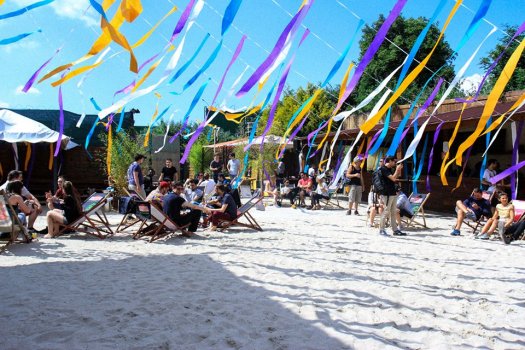 LaPlage Glazart : free concerts, DJ sets, deckchairs, fine sand, outdoor activities
Glazart will once again welcome you to its 50 tons of sand in the heart of Paris: free concerts, showcases, brunches, clubbing evenings and entertainment will be on the agenda non-stop over 4 months in a dream setting. LaPlage is striving to become the first outdoor club in Paris with concerts until early morning.
A space dedicated to music and fun will welcome you every day and week-end: deckchairs, green spaces, outdoor furniture, restaurants, food trucks, bars, merchandising shops, all located within the walls of Paris !
Bring your ID, some concerts are forbidden to underage or non-accompanied kids under 16: ID required for entry as well as proof of kinship.
Please consult LaPlage website for terms of access.
LaPlage, everyday concerts for June, July, August, September
Wednesday concerts honor top names and emerging talents: cumbia, rock, electro pop, hip hop... Clubbing free from Thursday evening. Friday and Saturday clubbing from 3pm to 6am with 2h of free music around new trends, Techno, House and Bass Music. Sundays for the family: brunch, antique fairs, entertainment, showcases...
Night and festive cruises in Paris
From 21st June, for the Fête de la Musique, many festivals... Porte de la Villette will surely be the hottest place in the capital: in the heart of the city during summer, a privileged space to be where you can sway to the rhythm of exceptional music.
Discover the rich programme of activities around Canal de l'Ourcq and the summer beach programme close to Paris