After 5 years of important work, renovation of the historical Paris Le Bourget airport terminal has finally been completed. The Grande Galerie of the Air and Space Museum had reopened in december 2019. A chance to see the unique collection in an exceptional place : the Museum Grande Galerie with its art déco walls. In this incredibly vast space, the entier history of aerostation and aviation is revealed.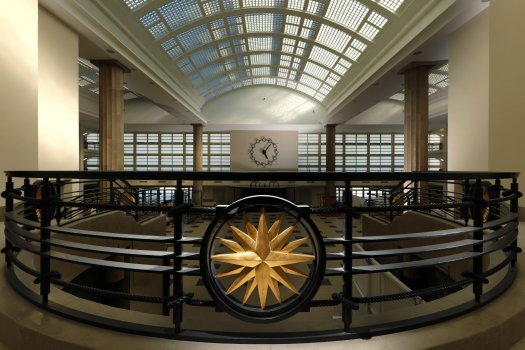 Grande Galerie de l'aérogare historique du Bourget, salle des huit colonnes © Axel Ruhomaully. 2019
Thanks to a sober and innovative scenography, the visitor rediscovers this key period of  the air conquest, from its origins to 1918 through a journey redesigned by the scientific team of the  Museum.
Visitors can see the non-rigid airship La France, the first aircraft to fly in a round trip. On August 9, 1884, La France left Chalais-Meudon near Paris, piloted by those who designed it, Charles Renard and Arthur Krebs. The aircraft travelled a 7.6 km loop, thus becoming a precursor of modern flight! The airship was renovated in 2019 thanks to a call for donations.
The nacelle and propeller are exposed in the Grande Galerie. The nacelle is 33 metres long and the propeller 7 metres high. This airship was powered by an electric motor with a chlorochromic battery with a silver anode (presented in the showcase).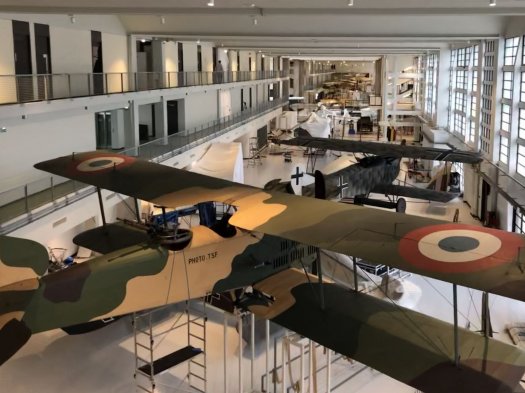 Maurice Farman MF.7 plane © Axel Ruhomaully. 2019
Mythical aircrafts from the Great War, such as the Farman, Rep K, Breguet, Fokker are on display.
FYI
26 May 1908: main attraction of the meeting in Gand, organised by the Flanders Aero Club, Henry Farman takes off in his biplane n° 1 bis in front of thousands of spectators. A copy of the aircraft is exhibited in the Grande Galerie.
Other highlights of the Air and Space Museum Paris le Bourget :