The famous luxury brand Hermès took up the challenge of settling in Pantin. Since 1992, workshops, offices, showrooms have set up close to the center of Paris. It is in these buildings, all the while respecting the industrial past, luxury and well-being, that Hermès chose to enlarge its premises and created the Cité des métiers. This was awarded the Équerre d'argent d'Architecture - Silver T-square prize in 2014.
Hermès leather workshops settled in Pantin
1992: Hermès opened a branch in Pantin, in Seine-Saint-Denis, rue Auger, a quiet road, with easy access by metro line 5 and close to downtown Paris. At that time they set up, in this post-industrial place redesigned by Rena Dumas, leather goods workshops. Size very rapidly became an issue so Hermès bought up all the land around with the idea already emerging to create its own Cité des métiers.
Hermès spreads out over Pantin, luxury finds place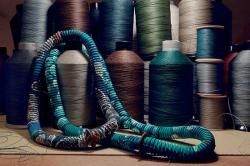 2010: Le Petit h opened! It is a creation activity workshop between artists and artisans from "home"-Hermès. Initially, the idea was to create objects or artworks from "leftovers" impossible to sell due to an invisible flaw. They work on silk, leather, porcelain, crystal… all these are noble materials, rare, and sometimes precious. The artisans make artworks which are displayed in Petit h – an art-dressed window display appreciated by everybody. Little by little, all the different trades and talents from Hermès, designers, saddlers, leather workers, couturiers, carpenters, goldsmiths, with their savoir-faire and the genius-stroke of great artists, became as one here.
After a few years of work, the new glass and brick-made building was completed, very impressive. More than 1000 employees are now on the site in Pantin. A gigantic 18 meter high glass hall "cathedral" guides you immediately into the world of luxury, of know-how and discretion. From the road you can just about glimpse this world.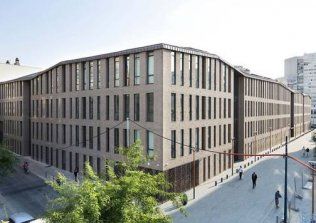 After that, a showroom called Podium Hermès (close to rue Montgolfier) saw the light. A fitness room was built here for employee use, a "leather school" and a nursery. It consists already of 40000 meter sq. and will soon have 1500 employees.
In the traditional manufacture of belts, bags and trunks, it is now also textile design (the famous H square), jackets and tableware that is present in Pantin (partly because other manufacturing areas are located in the south of France).
Équerre d'argent architecture - Silver T-square prize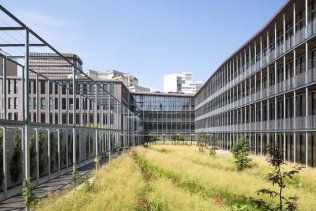 November 2014, the Hermès Cité des métiers in Pantin was awarded the Silver T-square prize. Hermès called upon RDAI Architecture to work on green spaces, offices and workshops. The most important building stretches 120 metres long on the pedestrian road facing the residential area. Shared spaces are set up here: halls, cafeteria, meeting rooms.
The architects took into consideration the architectural sign of the suburbs: houses, zinc rooftops, window sizes, grids... Superb grids crafted with finess and totally robust are visible from the street. The four buildings were designed with concrete slabs and reinforced concrete side panels. (BBC and RT levels 2012). The facade is made of solid bricks.
Inside this "island", the so-called "units" are linked together by gardens imagined by the landscape designer, Louis Benech. Each garden has its own theme. A covered path of high performance concrete (BFUP), crosses the entire site – it is the link between the buildings, the different trades and persons.
Hermès foundation
The Hermès company foundation, created in 2010, invites artists to create artworks with materials used by the French luxury fashion brand. The artists work in residency next to the crafts men and women working for the couture house. This collaboration encourages a real dialogue between crafts and contemporary art.
In 2022, the Hermès Foundation proposes a retrospective exhibition to celebrate its 10 years in Seoul, Tokyo and Pantin in Magasins Généraux called Formes du tranfert.
In proximity of rue Hoche and rue Auger
If you go through the Hoche district in Pantin, be sure to admire the Hermès company buildings. From here, enjoy a pleasant walk from the Centre National de la Danse and walk along the banks of Canal de l'Ourcq to admire the architecture of Grands moulins of Pantin, street art, or head off indirection of the Ropac gallery where, all year round free temporary exhibitions are held. Browse through our useful information pages if you are looking for a hotel room in Pantin or a restaurant close to the Hermès workshops. Before leaving the area, do not miss a visit to the bakery Meunier situated Place Olympe de Gouges opposite the Hermès site, where you can find the local market Olympe de Gouge.
You can find plenty of artisans and art workshops in Seine-Saint-Denis, do not miss out on visits and events around craft works.
If you're a fashion lover don't hesitate to visit the Pierre Cardin museum in Paris